Ariel Aero-P Atom concept uses ground-effect aerodynamics
New concept features battery-powered aerodynamic technology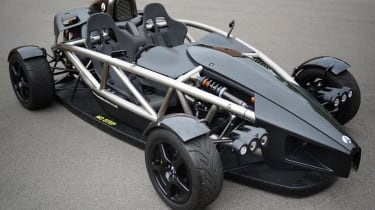 Ariel has unveiled a new Aero-P Atom concept which uses clever ground-effect aerodynamic technology to help the car produce downforce even when it's stationary.
The system is reminiscent of the Formula 1 'fan car' - the Brabham BT46B - which generated downforce by using a fan to extract air from the underside of the car.
In the Aero-P Atom concept, or to quote its full name, the 'Aerodynamic Efficiency Requirements & Optimisation Project', there are a pair of fans mounted underneath the car, with a rubber skirt forming a seal around the ground.
The end result is ground effect aerodynamics, without the increased drag generate by a wing or aerofoil. Produced in collaboration with TotalSim and Delta Motorsport, the Aero-P's fans operate using a standalone battery which can be controlled either manually, or deployed automatically during braking, accelerating and cornering.
Ariel's decision to use ground effect aero came out of the fact it claimed traction was starting to be limited by mechanical grip. Moving to the fan car system allows increased grip, without some of the penalties that come with a wing.
Ariel has said that the concept won't directly influence a production car unfortunately, although if you would still like to see it, it will be on show at the Low Carbon Vehicle Show at Millbrook Proving Ground on the 14th and 15th of September.