Renaultsport Megane 275 Trophy-R v VW Golf GTI Clubsport S - evo Track Review video
What happens when you put two of the most extreme, focused and entertaining hot hatches against the clock and each other?
When hot hatch kingpins Renaultsport and Volkswagen go all out to create ultimate versions of their hot hatchbacks, we end up with cars like these, the Renaultsport Megane 275 Trophy-R and VW GTI Clubsport S. 
Don't let those familiar shapes and mainstream nameplates fool you, these stripped out, hard-core hatchbacks are just as focused as the most exotic of sports cars. Thanks to the proliferation of all-wheel drive, three hundred horsepower plus hatchbacks are becoming increasingly commonplace, but the Trophy-R and Clubsport S are different animals, focused intently on achieving optimum performance on track. 
> Click here to read our review of the Renaultsport Megane 275 Trophy-R
To start with both cars are resolutely front-wheel drive, with power sent to the wheels via trick limited-slip diffs. They also do without any rear seats and equipment levels are sparse, especially in the Megane. The weight saving mesures are just as intense as any stripped out track-day special, but what's left behind a unique type of performance car, with an even more unique skill set.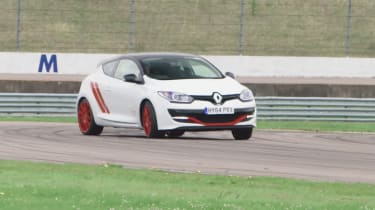 The Renaultsport Megane 275 Trophy-R was the swansong of the Megane Phase III coupe. Taking inspiration from the iconic R26 R in ethos and livery, the Trophy-R was the ultimate expression of Renaultsport's ability to engineer the ultimate hot hatch, culminating in its tenure as a Nurburgring lap record holder. 
Volkswagen lacks the same heritage as Renault when it comes to producing the most extreme hot hatchbacks, instead being a purveyor of a slightly more sophisticated type of performance car. The GTI Clubsport S however is different, adhering to stripped-out road racer rules, but in VW's polished mk7 Golf package.
> Click here for our review of the Volkswagen Golf GTI Clubsport S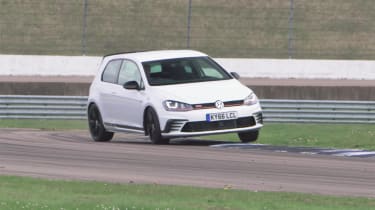 The results are two of the most extreme and entertaining hot hatchbacks that have ever graced the pages of evo – so for our next film produced in conjunction with games producer Hutch, we pitched them against each other on the Rockingham international circuit.
Make sure to keep an eye out on out Youtube channel for our latest evo films and click here to download Top Drives, Hutch's latest game for your mobile device.