Jaguar and Land Rover range to be electrified from 2020
Electric and hybrid commitments ensure JLR keeps pace with rivals over the next decade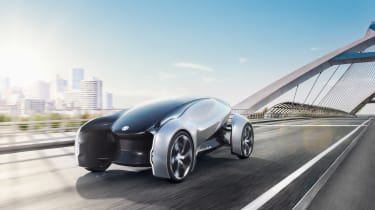 Jaguar Land Rover has joined an increasing list of car companies to confirm that all new products launched after 2020 will feature some form of electrification.
While that doesn't mean fully-electric Jaguars and Land Rovers just yet (though those are certainly on the way) the plan ensures neither company should be left behind rivals in the development of alternative powertrains.
At the same time, some models are unlikely to change too much from a pure driving standpoint. At the bottom of the range, electrification will be as simple as implementing mild hybrid technology, which typically involves using an integrated starter-generator to harvest energy from braking and deceleration and deploying it under acceleration.
The technology will then span hybrid and plug-in hybrid technology, and finish with fully electric vehicles, like the production version of Jaguar's I-Pace concept – which will become Jaguar's first ever fully electric production car when it goes on sale next year.
Alongside this announcement, made at Jaguar Land Rover's TechFest event in London, the company has revealed other steps towards its future in the form of an electric-converted E-type known as the E-type Zero, and the "Future-Type" concept, which takes the idea of future mobility beyond the car itself and puts a removable smartphone-style steering wheel into your daily life.
While neither seems to be a perfect implementation of forward-thinking technology – the E-type Zero features an incongruously-appointed carbonfibre dashboard and modern rotary gear selector, the Future-Type some erroneous "emotion" references for what is ostensibly a wheeled smartphone – both show that JLR isn't simply limiting itself to electric powertrains, and is considering a wider range of topics as the brand goes forward into the future.
Other concepts appearing at TechFest include a unique recruitment program launched in collaboration with the virtual music group Gorillaz – which involves individuals cracking code to fast-track them to technological positions within JLR – and a surfboard made from 100 per cent recycled polyurethane plastic, drawing attention to the vast quantities of waste plastic present in the world's oceans.
TechFest also marks the latest public appearance of the E-Pace, Jaguar's new compact crossover, launched (literally) with a barrel-roll stunt back in August. The E-Pace goes on sale in 2018, using a range of Ingenium four-cylinder petrol and diesel powerplants – and is a likely candidate for some of JLR's mild hybrid technology from 2020.