First look at new Carrozzeria Touring Superleggera Berlinetta Aero
Italian coachbuilder Carrozzeria Touring Superleggera drops first hint about its next low-production special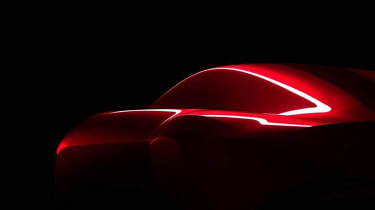 Italian coachbuilder Carrozzeria Touring Superleggera has teased its latest commission, the reimagining of a one-off pre-war Le Mans racer from Alfa Romeo. The new model will be called the Berlinetta Aero, and like all of Touring Superleggera's models references Carrozzeria's past to create a modern interpretation of the coachbuilt race car.
This new Berlinetta Aero will reference the Alfa Romeo 6C 2500 SS Berlinetta Aerodynamica, a bespoke version of the 6C designed for the 1939 Le Mans 24 Hours. As its name suggests, the Aerodynamica was designed to be as slippery as possible to excel on Le Mans' iconic Mulsanne straight, while running the proven period underpinnings of the standard Alfa Romeo 6C 2500 SS Berlinetta.
> V8-powered Mulholland Legend 480 is a TVR for 2020
Touring Superleggera's modern version will be created from a similar process, but unlike the original has been designed to offer an aesthetic distinction, rather than one honed to win on the track. As a result, like Touring Superleggera's previous Scia Di Persia, Disco Volante and most commissions before them, the new Berlinetta Aero will likely utilise either a modern Ferrari, Alfa Romeo or Maserati as a base, wrapping its unique aluminium or carbonfibre bodyshell over the top to create a distinctive new model with aesthetic reference to the original.
From the released image, we can already see the 6C Berlinetta Aerodynamic's heavily tucked sills and narrowing cab sitting on top of a relatively long and lean bodyshell. The 6C 2500 SS Berlinetta Aerodynamica was noted for being one of the last Alfa Romeos not to feature the iconic scudetto grille, and with its streamlined body and cropped roofline represented a vast leap in car design before the Italian automotive industry's inactivity during the war.
> Goodwood Festival of Speed 2020 postponed 
The Berlinetta Aero's specific donor car will signal the chassis and powertrain destined to feature, but considering the original's considerable proportions for the period, likely candidates include any version of the Maserati GranTurismo or a Ferrari Berlinetta underneath.
The Berlinetta Aero was initially penned for a public release at the Goodwood Festival of Speed, but due to its postponement we should instead see it sometime later this summer. As with all Touring Superleggera models, if you need to ask how much it will cost then it's probably not for you, but these sorts of coachbuilt cars were never everyday urban runabouts, so a high price tag for its modern interpretation would be a given.