Porsche increases Rimac stake to 15.5%
As Porsche continues the launch programme of its Taycan electric car, it's upping its stake in EV innovator Rimac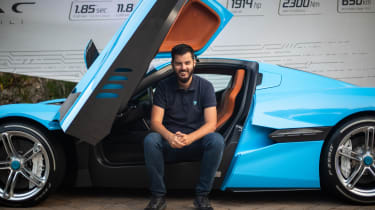 Porsche has announced it will up its stake in Croatian EV innovator Rimac from ten to 15.5 per cent as it hopes to bolster its electric car development programme. With Porsche's first all-electric model now revealed, and plans to expand its EV range further very much in motion, the move will ensure that Rimac's expertise in EV development is channeled down the right avenues within Porsche.
Speaking at the reveal of the Porsche Taycan, Lutz Meschke, the Board Member for Finance/IT and Deputy Chairman of the Executive Board for Porsche, said; "our investment with Rimac is for the benefit of our battery technology. They weren't directly involved in the Taycan's development, but Rimac will feed into Porsche's technology."
Founded in 2009, Rimac has grown exponentially in the last decade into a company supporting 600 staff who specialise in high-performance battery and electric motor development. It was just over a year ago that Porsche initially announced its ten per cent stake in the Croatian company and now the partnership has grown again. 
Now considered a top-tier industry supplier, Rimac has connections throughout the automotive world in the development of high performance components and technology for electric cars. It also still has its own C-Two electric hypercar in development ahead of the first customer deliveries in 2020. 
"It was one of the most important milestones in our history to win Porsche as a partner. The fact that Porsche is now increasing its stake is the best confirmation of our cooperation and the basis for an even closer relationship," said Rimac Founder and CEO, Mate Rimac.  
"We are just at the beginning of our partnership - and yet our high expectations have already been met. We have many ideas that we want to action together in the future. The key is to create a win-win situation for both partners and to add value to our end customers by developing exciting electrified models."