McLaren 600LT Spider teased ahead of imminent reveal
Less than a year after launching the track-inspired 600LT Coupe, McLaren has teased a spider variant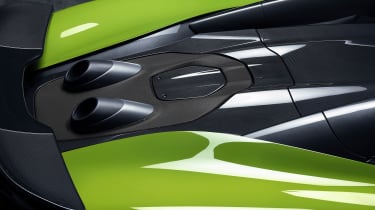 McLaren has released teasers for what appears to be a topless variant of the hardcore, 592bhp 600LT (for Longtail). No specifics have been announced, but a single image shows the rear deck of the 600LT – easily identifiable by the top-mounted exhausts – with what appears to be moveable sections for a folding roof. The design matches the rear deck of the 570S Spider, the model on which it would be based. A full reveal is due next Wednesday 16 January.
McLaren also posted a brief video to its social media accounts, showing the rear of a 600LT with the tagline, 'The edge. Amplified'. The absence of a roof combined with those flame-spitting, top-mounted exhausts would certainly add the claimed amplification to the driving experience. As with the coupe, the Spider will feature a more aggressive diffuser and splitter setup alongside other track-inspired body modifications over the standard 570S.
McLaren has said that the model – the fifth to carry the LT, or Longtail, nomenclature – will have a limited production run of just 12 months. Following the Speedtail hypercar and 720S Spider, it will be the third new model to be announced under McLaren Automotive's £1.2bn Track25 business plan, revealed last year.
The McLaren Longtail story began in 1997 with the McLaren F1 GTR 'Longtail' used for endurance motorsport: the name was revived in 2015 with the launch of the 675LT Coupé and later, the 675LT Spider. The 600LT Coupe was the fourth McLaren to bear the name and was revealed in July 2018 at the Goodwood Festival of Speed – it was introduced as part of the marque's sports series programme, adding hardcore, track-inspired tweaks to the 570S.
More information on the 600LT Spider will be announced next week on Wednesday 16 January, at 13:00 GMT.