Abt Audi RS5-R Sportback revealed alongside 788bhp Abt-powered boat
Not only has the German tuner fettled the Audi RS5 Sportback, it's also turned its attention to watercraft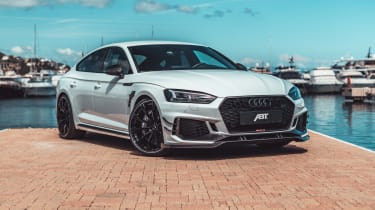 1/7
German turner Abt fettled the RS5 Coupe in early 2018, and has now decided to apply the same treatment to the more practical Sportback variant, helping to make those school runs all the more enjoyable.
A simple listing of specs in a press release wasn't quite enough for this model, however, and so Abt revealed it alongside a performance boat it's created in collaboration with an Italian boat manufacturer.
> Abt RS5-R – German tuner takes Audi RS5 beyond 500bhp
An ECU tune takes the RS5's twin-turbocharged 2.9-litre V6 from its 444bhp, 442lb ft of torque stock output to over 520bhp and 501lb ft, a healthy gain of around 80bhp and 60lb ft. New performance figures haven't been quoted, but the tuned coupe managed a 0-62mph time of 3.6sec with the delimited top speed of 174mph.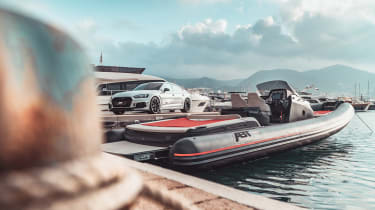 Elsewhere, you'll find new Abt coilover suspension and a sports anti-roll bar for lower ride height and more stability, as well as the tuner's own exhaust system to let the half-dozen power plant breathe.
Visually, the RS5 receives the same additions as the coupe, adding larger wheels and plenty of carbonfibre trim to the mix – a new splitter, rear spoiler, front canards, front wing vents and more are all included. Abt branding will also likely feature inside on the headrests, door sills and more should you tick the boxes.
As for the boat, it's the product of a collaboration between Abt and Sacs Marine; an 11m performance watercraft featuring two Abt-tuned 394bhp V8 TDI engines, for a total of 788bhp. The Strider 11 Abt Sport Master boasts a top speed of 50 knots (57mph) and even has the ability to change the tone of its exhaust to best suit the passengers' tastes.
Only 50 Abt RS5-R Sportbacks will be built. Pricing and availability is yet to be disclosed.