The Zolfe Orange is one of those cars that catches your eye in concept form, impresses close up – and leaves you hoping that one day you'll get to drive it. Since it first appeared at the Autosport show back in January 2006, the Zolfe – foreign-sounding but solidly British, a product of the West Midlands – appears to have changed little but has in fact been substantially re-engineered by ex-Caterham technical director Jez Coates. And it's almost ready to drive.
With its intricate spaceframe chassis and composite body, this rear-drive GT weighs little more than 700kg and is powered by a hearty 185bhp 2.3-litre Ford Duratec engine. Other engines will follow, but this sounds like a well-balanced package as it is, and that includes the price – an anticipated £27.5K in basic 'trackday' trim when it goes on sale this spring.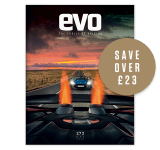 Subscribe to evo magazine
Subscribe today to have every issue of evo delivered straight to you. You'll SAVE 39% on the shop price, and get evo for its original cover price for a whole year!
'It started when a couple of colleagues and myself decided we'd like to build our own race car,' explains Nic Strong, boss of Spatz Arlon, the company behind the Zolfe. Strong started the business as Spatz a decade ago, initially to produce spray-reducing wheel-spats for trucks. Since then his vacuum-formed plastics company has diversified into many areas, including bathroom furniture, hulls for remote-control boats and car parts.
It's still a big step from there to building a whole car, though. Strong's a bright bloke and knows his business inside out, so why would he venture into the expensive and time-consuming world of building cars? He is, he admits, an incurable car nut, and the catalyst for the Zolfe Orange was a 'green' van. Back in 2004 Spatz Arlon was commissioned to build the first three electric-powered commercial vehicles for Coventry-based Modec UK, and this gave Strong an insight into what would be involved. Undoubtedly another deciding factor was that Spatz Arlon is a member of the Niche Vehicle Network, a Midlands-based collective of specialist car makers and suppliers, and thus has access to a wealth of expertise and experience.
What Strong and his colleagues wanted to produce was a traditional sports car, and the original Elan was a major influence. 'I wasn't a fan of the Caterham and Westfield type of car,' says Strong. 'I wanted it to be more of a GT. We looked around and at a 750 Motor Club race meeting we saw a Davrian and that looked much more like what I wanted.'
With that as a starting point, the styling of the car was shaped by favourite details from iconic cars. There are elements of Opel Manta A and Corvette at the rear, '67 Mustang in the side window line and Cobra in the arches, yet overall the shape is cohesive and somehow British.
There was a good reaction to the car at the Autosport show, but there were significant changes in store. The hastily mocked-up show car featured a Hayabusa bike engine, a fashionable choice at the time, but, more crucially, the show car was physically too small to accommodate Strong.
Since taking on the role of technical director for Zolfe, Jez Coates has overseen the car's upscaling and all aspects of its development, using his experience to make the most of a tight budget. 'I've spent the money where it will have most effect,' he says.
The bike engine was replaced by the Ford four-cylinder, and Coates sketched out a new wheelbase and wheel tracks before handing the design of the spaceframe to Simpact, another NVN member, and at the same time commissioning MTCE to look at suspension and mounting points. Meanwhile, Stadco, best known for engineering and supplying bodies for major car makers, offered its help to upsize and restyle the Zolfe's body.
In the flesh the car is low and wide and a little bigger than you might expect, which makes the kerb weight of around 700kg all the more impressive. For me, the car looks even more wonderful without its body. The web-like chassis, manufactured by Stadco, is a work of art and offers rigidity on a par with an Elise.
'Stadco don't get credit for the remarkable range of skills they have.' says Coates. 'They also asked what cockpit ergonomics we'd like; they have hundreds of cars on their database. We were thinking along the lines of Nissan 350Z, Honda S2000 and Audi TT. We went for the Audi in the end and that's what we got.'
Slip into the driving seat of the hard-working prototype and there's decent room in all directions. The seat, steering wheel and pedals are all aligned, there's no banging of knuckles on screen pillar or facia, the instruments are clearly visible, and the gearlever is just where you'd place it.
Sourcing the drivetrain to go with the Duratec engine was harder than expected. Coates was keen to have brand new parts, not remanufactured components, and thought it would be easy to go through Ford to get the gearbox and diff assembly of the current Mazda MX-5, Ford being a major shareholder in the Japanese firm. It was anything but, but he did eventually get what he was after, meaning Zolfe customers will have the option of a limited-slip differential and the choice of five- and six-speed manual gearboxes and an automatic – important as Zolfe already has a US dealer and distributor. The prototype has air-con and there will be electric windows too. AP racing supplies the all-round disc brakes, Avon the tyres.
Most of the first year's production – expected to be some 30 cars – will be going to the US, but a handful of UK cars will be built too. I reckon there will be no shortage of drivers who are drawn by the Zolfe's mini-GT looks and the promise of traditional front-engine, rear-drive thrills. We look forward to bringing you the first road test.