Peter Wheeler 1945-2009
Former TVR chief Peter Wheeler has died after a short battle with illness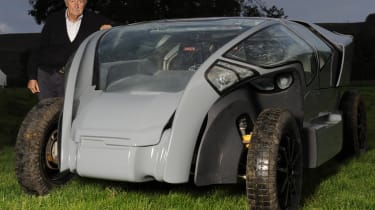 TVR's former boss Peter Wheeler has died. He passed away last night after a short illness.
He's a legendary figure in the car industry, having captained the TVR ship between 1980 and 2004. It remains the Blackpool sports car maker's real glory period during which time cars such as the Cerbera, Griffith, Chimaera and Tuscan were launched.
Even more characterful than the cars was the man himself, and after selling the company to a Russian businessman in 2004, he continued his work albeit down a different avenue – constructing himself a classic TVR 5000M racer as well as building the truly astonishing (and rather mad) Scamander amphibious vehicle that we featured in our tenth birthday issue.
Our condolences go out to his family. He'll be a hugely missed character, and to many people here, friend.
Click here to read about Peter Wheeler's Scamander project
Click here to watch our Scamander videoClick here to read our TVR articles