800bhp AC Roadster
Modern day AC Cobra roadster with rather mad 200mph+ supercar performance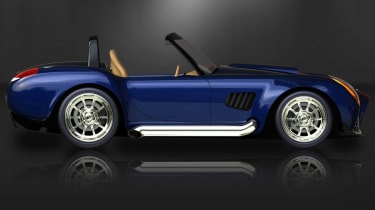 The AC Cobra was always known for being a bit mad, but its modern-day incarnation is becoming even more so.
We've driven AC's official version, the MkVI GT, but now an American Firm – Iconic Motors – has joined forces with the British legend to produce this, the Iconic AC Roadster.
And with 800bhp on tap it's certainly not your usual retro sports car. Performance is particularly startling, with 0-60mph taking less than 3sec and the quarter mile distance marker being passed in under nine.
That power comes courtesy of a 6.9-litre V8 engine, and mated to the AC's lightweight body (the AC MkVI weighs around 1000kg) a 700bhp/ton+ power to weight ratio is more than possible.
The Iconic AC Roadster gets its debut at this weekend's Pebble Beach Concours in America, where the new big Bentley luxury saloon also gets its big unveil. Come back to evo.co.uk on Sunday night for that one.
Read evo's review of the AC MkVI roadster here
Follow evo's Twitter for the performance car latest