Latest issue of evo Magazine
Ferrari v Porsche special issue: 458 v GT3 RS, Enzo v Carrera GT, 599 GTO v GT2 RS, 512 v 917, 288 GTO v 959. Gordini Clio group test, BMW M3 buying guide, new Morgan and Stratos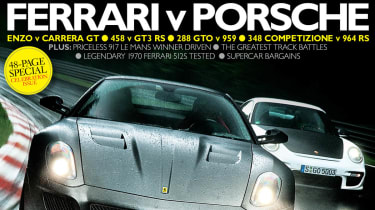 NewsWe've got the inside story on Ken Block's latest sideways antics and there's a new Morgan (which isn't something you see every day)
DrivenWe drive the Daytona Shelby Cobra coupe, pit two mega-tuned Focus RS hot hatches against each other, revisit the mighty Merc G-Wagen and preview the new BMW M5 with Alpina's twin-turbo V8-powered B5.LettersHow to get E30 M3-style fun from an old 5-series, and a watch-winning  thread from the evo forum too…Ferrari v Porsche celebrationNo two marques have a greater back catalogue than Ferrari and Porsche. We pit their finest head-to-head, starting with the new 599 GTO against the new GT2 RS. You'll also find 288 GTO taking on 959, 458 Italia squaring up to GT3 RS, rare 348 Competizione tackling 964 RS, and Enzo renewing its tussle with Carrera GT. And because the rivalry extends to motorsport, we also drive those immortal Le Mans warriors, the 917 and 512.
Hot Hatch Group TestTime-travel back to the '60s and you'd have seen Abarth, Gordini, Cooper and Cloverleaf badges gracing the rally stages. Today they grace the roads of the Peak District
Long-termersYou know what it's like – no sooner have you said farewell to one four-seater coupe than another one arrives. So it's goodbye Merc E500, hello Infiniti G37 S CoupeBuying guide: E90 M3Easy buying guide this month because the E90 M3 is still on sale so you simply walk into your nearest dealer and pay full price (that's a joke, by the way)
Track Battle The Audi TT RS is rather like the Bentley Continental Supersports' little brother. Will there be an almighty family row in the VAG household if it beats big brother round the West Circuit?
The KnowledgeAll the data you need – and more
Ask the ExpertsIf you want to transport your mountain bike about the place, but also want to have a little driving fun while doing it, what are your surprisingly varied options?
Me and My CarWe've all daydreamed about building our own supercar, but Oliver Ashley has actually built his dream. It's called the K-1 Attack