action-art motorsport prints
After some smart motorsport artwork? Fran Richley - AKA action-art - is your man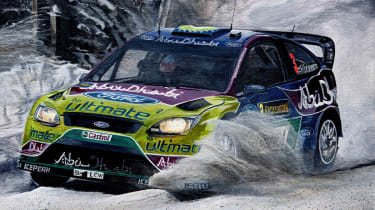 If you attended the last evo track day of the year at Silverstone in September you may have met emerging motor sport artist, Fran Richley, who joined us for the day in his Lotus. What you didn't have at this event was an opportunity to view some of Fran's outstanding limited edition fine art work. We want to correct that. In just two years, Fran already has an impressive CV with commissions from Nicky Grist, the Red Bull Formula One Team, the McRae Vision Charity, the Richard Burns Foundation and M-Sport to name just a few. Virtually all of his work is autographed by the respective driver or co-driver.
'Finnish Line', above, is dedicated to the 2010 BP Ford Abu Dhabi WRC Finnish partnership of Mikko Hirvonen and co-driver Jarmo Lehtinen. Under the guidance of Lehtinen's pace notes, Hirvonen powers the WRC Ford Focus with pin-point accuracy through the snow and ice stages of the Swedish Rally to claim victory in the first round of the 2010 WRC season.  The picture has been commissioned by M-Sport's Malcolm Wilson and is a particularly fitting tribute given the retirement of the iconic WRC Ford Focus from the World Rally stage at the end of 2010. (See a farewell picture gallery here). A percentage of all profits will be donated to the McRae Vision Charity. Only 150 large and 75 small prints of 'Finnish Line' will be produced, each one signed by the artist. In addition, the first 70 large prints are also signed by Wilson and Hirvonen.
A limited number of fine art 'taster mini prints' are also being made available of this particular work to allow people to experience the quality of Fran's artwork, costing just £16.50.
To find out more about action-art visit www.action-art.co.uk