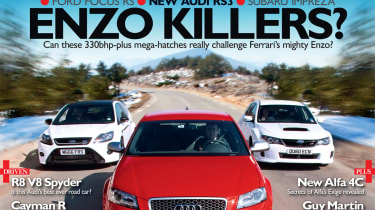 Buy a copy of evo 156 in our online shop
Subscibe to evo electronically on Zinio here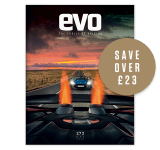 Subscribe to evo magazine
Subscribe today to have every issue of evo delivered straight to you. You'll SAVE 39% on the shop price, and get evo for its original cover price for a whole year!
Try evo Magazine's new iPad app here
NewsUp close and personal with the Alfa Romeo 4C sports car, plus the latest on the Porsche 918 SpyderNew car reviewsPorsche Cayman R, Aston Martin Virage and Vantage S, Audi R8 Spyder V8, new Vuaxhall VXR8, Fisker Karma, new Mercedes SLK and more go under the evo microscopeLettersThe new McLaren MP4-12C is splitting opinion and one reader has exclusive spy shots of Ferrari's Aston Martin Cygnet rivalCover story: Enzo v RS3 v Focus RS v Impreza Spec CYou can now buy a number of hot hatchbacks with 330bhp-plus and traction to spare, the new Audi RS3 being the latest example. But could the RS3, and a pair of fellow hyperhatches from Ford and Subaru (via some established tuning houses) catch a bona fide supercar on twisty alpine roads? A fired-up Ferrari Enzo and the Col de Vence await them
Favourite giant-killing momentsEveryone loves underdogs, especially when they win. We recall their finest hours, from Senna's first moment of stardom to the Clio Trophy on eCoty 2005
Guy Martin tries a WRC FocusThe new-age Fred Dibnah is pretty nifty on a motorbike, but can his two-wheeled bravery translate to a World Rally-spec Focus? We head to a Cumbrian forest to find out
BMW 3.0 CSL v M3 GTSAn old big-winged Beemer versus a new one. Both are brilliant, but in different ways…
New BMW M5 first driveChris Harris heads to the Swedish snow to sample the all-new, twin-turbo V8-endowed M5. Does the first forced-induction M saloon manage to excite him?
GT racer megatestRoger Green tries a load of GT Championship cars before bragging about his latest race seat – in a Mercedes SLS AMG
Bentley Conti Supersports on iceA mildly tweaked Bentley Continental Supersports recently set a new ice speed record in Finland. Henry Catchpole then nicked it and headed south
Long-term testsThe car park's a much quieter place now our TVR Griffith, Fiesta Mountune and XKR Speed Pack have noisily said ta-ta
Buying guide: Noble M12 GTOThe British-built 'big Elise' with supercar pace goes under John Simister's microscope
Me and My Car: James Hatfield & his Civic Type-RA Type-R fanatic builds his dream combination - an old-school Civic with a DC2 Integra engine
Buy a copy of evo 156 in our online shop
Subscibe to evo electronically on Zinio here
Try evo Magazine's new iPad app here