Ken Block Gymkhana Four - The Hollywood Megamercial
The latest Ken Block Gymkhana video - The Hollywood Megamercial - sees his 600bhp Ford Fiesta slide round film sets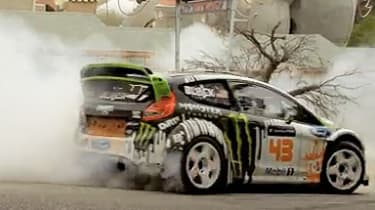 Youtube-sensation Ken Block has released the fourth instalment of his popular 'Gymkhana' videos.
The new video is slightly more surreal than previous footage, but is essentially business as usual and includes Ken's new 600 horsepower H.F.H.V (hybrid function hoon vehicle) Ford Fiesta powersliding through a wall and donuting around a gorilla on a Segway (yes, really….).
As with all the videos, it's obvious that a massive budget was available as it includes Ken smoking his way around the film sets at Universal Studios in California.
See video and pictures of Gymkhana 3 here