Tramontana XTR supercar
Spanish supercar builder Tramontana has announced a more extreme 875bhp road-legal track car called the XTR.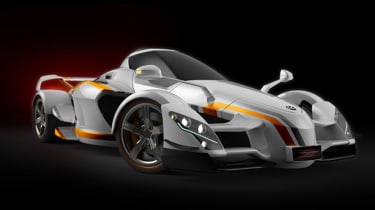 Spanish supercar manufacturer a.d. Tramontana has announced a new model, the XTR, which boasts 875bhp from a twin-turbo Mercedes-sourced 5.5-litre V12 engine, mounted in the lightweight carbon fibre chassis. It will be on sale later this year, priced at £330,770 (€420,000).
The company's first supercar, the Tramontana R, was launched in 2009 and the XTR is an evolution of the R – with various upgrades to improve upon the original. The 175bhp increase comes from a new version of a Mercedes-Benz V12, which is now mated to a new race-spec gearbox.
The car's aerodynamics have received a large amount of refinement, which is said to improve high-speed stability and downforce, which was already an impressive 250kg – an unusually high amount for a road car.
No new performance figures have been released, but the old R could do 0-62mph in 3.6 seconds, and onto a limited top speed of 201mph, which should make the XTR considerably quicker.
Click here for the full evo Tramontana R review