Sebastian Vettel stars in music video
The double Formula 1 World Champion stars in double Grammy-winning US R&B star Melanie Fiona's music video 'Watch Me Work'.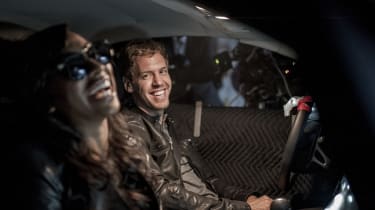 The two-time F1 World Champion Sebastian Vettel has turned his hand to acting, after featuring along side R&B star Melanie Fiona in the video for her new track 'Watch Me Work'.
The Red Bull driver and Infiniti Global Ambassador plays a central part in the video, set in downtown New York. It sees Vettel searching to find an underground location for Fiona and her band to perform – emerging in a red Infiniti G37 convertible.
It was shot on location in New Jersey in June, when Vettel drove the proposed New Jersey F1 Circuit.
Here's the video: