Buy a copy of evo 175 in our online shop
Subscibe to evo electronically on Zinio here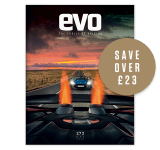 Subscribe to evo magazine
Subscribe today to have every issue of evo delivered straight to you. You'll SAVE 39% on the shop price, and get evo for its original cover price for a whole year!
Try evo Magazine's fantastic iPad app here
NewsCaterham's new CEO talks about the company's future, and BMW's jaw-dropping Art Cars visit London
ColumnsTiff Needell turns all Judith Chalmers on us as he hands out holiday advice after a trip to watch NASCAR
First drivesThis month we've sampled Mazda's hardcore MX-5 GT, Mercedes' more road-friendly C63 AMG Black Series, Porsche's more track-biased Boxster S Sport and Litchfield's tuned Subaru BRZ, among others
LettersThe kids aren't alright – they've spent the month writing in to put Harry straight on last month's column about them
New Range RoverOur celebration of Britain's best new cars kicks off with the all-new Range Rover. It's lighter, more powerful and better for the environment, but its looks will be divisive. Make your mind up here…
Jaguar F-typeThe latest on Jaguar's new roadster and the little-known project group that could create an extreme version
British cars A-ZFrom Ariel to (sort of) Zagato, the future looks bright for British motoring
Aston Martin V12 Vantage RoadsterAston Martin's drop-top V12 Vantage finally arrives, three years after the coupe. Jethro Bovingdon heads to Wales to see if it was worth the wait
Renault Twingo 133 v Suzuki Swift SportTwo of the cheapest cars in the Knowledge are also two of our favourites. Henry Catchpole pits Renaultsport against Suzuki on road and track…
Henry goes rallying…and then proves the little Twingo's worth by driving one on the legendary Jim Clark Rally
The 911 generationsGT3s aside, our favourite Porsche 911s are often the sweet, entry-level models. Richard Meaden tracks their progress, driving eight of them, from the '60s 2.2T to the current 991 Carrera
Tyre Test 2012You probably know the difference good tyres make to your car as well as we do. Find out which set to fit next here
Long-term testsA Renaultsport Twingo arrives, the Morgan gets a grip reduction, and there's a Fast Fleet day out at the Bedford Autodrome
evo knowledgeA mk2 Ford Focus RS buying guide, Catchpole takes a road trip in Tenerife and Nick Trott goes fantasy car shopping
Subscribe!Did you know our interactive iPad issues cost just 50p each if you add them to your print subscription?
Me and my carThe American watch designer and his love for wedge-shaped Italians that led him to an Alfa Romeo GTV6
Buy a copy of evo 175 in our online shop
Subscibe to evo electronically on Zinio here
Try evo Magazine's fantastic iPad app here