The April 2013 issue of evo continues the magazine's new, updated look, with more space for features, a new regular feature - the Art of Speed - and an all new columnist. Full details below...
Buy a copy of evo 181 in our online shop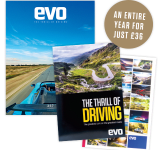 Subscribe to evo magazine
evo is 21 and to celebrate, we're returning to 1998 prices! Subscribe now to SAVE 39% on the shop price and get evo for its original cover price of £3.00 an issue, plus get a FREE gift worth £25!
Subscibe to evo electronically on Zinio here
NewsNew Minis and a revised Bentley. Plus Mystic Tiff saves us the bother of watching F1 this season
First drivesLamborghini Aventador Roadster, Jaguar XFR Speed Pack, Mercedes E63 AMG S, Nissan Juke Nismo, Ford Fiesta Ecoboost and Audi R8 V10 vs Porsche 911 C4S Powerkit
ColumnsRichard Porter wants to set up the RSPCC and Harry details the woes of being rich enough to own a supercar, but not to insure one LettersYour missives are filled with Venom this month. By which we mean your opinions on the Hennessey
Extreme hot hatchbacksThe 4wd Audi A1 quattro and the rabid (and rapid) new Mini John Cooper Works GP take on two of the hottest hatches ever on road and track - the Renault Megane R26.R and Ford Focus RS500
Mature hot hatchbacksRoll-cages and semi-slicks a bit much? Might we suggest the more refined nature of a BMW M135i. It takes on a VW Scirocco R, a Renault Megane 265 Cup and a Superchips Ford Focus ST
MG Metro 6R4We drive the boxy riot of be-winged craziness that is the ultimate hot hatch of them all. And this might just be the most original example in existence
Inside NismoRarely, if ever, has a red door provided so much excitement. We poke around the Aladdin's cave that is the Nismo factory
Porsche Cayman SDespite being named after a small crocodile, this is one of 2013's most eagerly awaited cars. Richard Meaden drives it in Portugal
Aston Martin V12 Zagato to ScotlandMix whisky, a piste-basher and possibly the greatest stretch of tarmac in the UK and you get a potentially lethal combination. We sample them separately
Mitsubishi Evo Generations group testSome people still assume that this magazine is all about Mitsubishis. This test won't do anything to dissuade them
Long-term testsWe never thought it'd happen - Harry waves his beloved Pagani Zonda goodbye evo KnowledgeWhy not combine two parts of this issue's Knowledge by purchasing a Lotus Evora using our buying guide and then driving it out to Morocco courtesy of our road trip suggestion?  EssentialsStill pondering what to spend those Christmas book vouchers on? We have got the answer
Art of speedBehold the most iconic manual gearshift of them all Buy a copy of evo 181 in our online shop
Subscibe to evo electronically on Zinio here
Try evo Magazine's award-winning iPad app here