The June 2013 issue of evo continues the magazine's new, updated look with judgement day for one of the most highly anticipated performance cars of our generation. The Jaguar F-type is finally here, and with a couple of Porsches, a box office Aston Martin, tyre-killing Tiff Needell and the challenging roads of North Wales to contend with, we haven't made things easy for it...
Buy a copy of evo 183 in our online shop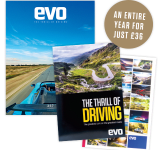 Subscribe to evo magazine
evo is 21 and to celebrate, we're returning to 1998 prices! Subscribe now to SAVE 39% on the shop price and get evo for its original cover price of £3.00 an issue, plus get a FREE gift worth £25!
Subscibe to evo electronically on Zinio here
NewsYet another Bugatti Veyron special edition, while the Maserati Ghibli makes a comeback
First drivesReviews of the mk7 VW Golf GTI, Mercedes SL65 AMG, Audi RS6 Avant and S3, KTM X-Bow GT, Ariel Atom Cup, mk2 Porsche Cayman and SEAT Ibiza Cupra ColumnsThe United Arab Emirates may be hot, but Richard Porter couldn't resist putting his anorak on LettersReaction to Dickie Meaden's guest column from last month and the evo forum's consensus on the 950bhp LaFerrari
Jaguar F-type vs rivalsHas there been a sports car as teased and hyped in the last ten years? Well the F-type's here now, and it's time for both V6 S and V8 S versions to face the music. Or a Porsche Boxster S, 911 Cabrio, Aston V8 Vantage and a drift-happy Tiff, at least
Audi R8 Plus vs Ferrari 458 vs McLaren 12CA twin-clutch gearbox and a hike to 542bhp help to elevate the Audi R8 beyond mere Porsche 911s and Nissan GT-Rs – it's time to face the really big boys Peugeot 208 GTIPeugeot 205 GTI cliche bingo card at the ready, it's time to drive its great grandson Geoff Page RacingThe man who spurned a season behind the wheel for a career wielding spanners. We're glad he did The best Lotus ElisesIt's 17 years since the lightweight Lotus launched (how old do you feel now?). Dickie Meaden drives our favourites
Renault Sport Spider The Elise wasn't all good-guy, though. We experience the car whose rosy outlook it quashed – Renault's quirky arachnid McLaren SLR editionThe Mercedes-McLaren road-car relationship proved a little rocky. Now Woking wants custody of some of the kids
Long-term testsHarry's bought a 308, making us all wonder what element of Peugeot's family hatch he found irresistible evo KnowledgeRemember the TVR Tamora? Now it's back in your conscience, here's how to buy a good 'un
Car dataDon't know the Lamborghini LM002's bhp/ton off the top of your head? Rectify that here Art of speedThis month, the McLaren F1's central driver's seat Buy a copy of evo 183 in our online shop
Subscibe to evo electronically on Zinio here
Try evo Magazine's award-winning iPad app here