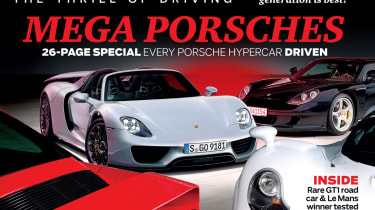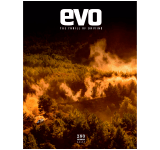 Subscribe to evo magazine
Subscribe today to have every issue of evo delivered straight to you. You'll SAVE 39% on the shop price, and get evo for its original cover price for a whole year!
News Feast your eyes on Ford's new right-hand-drive Mustang and see if you agree with our highs and lows of 2013
First drivesAlpina D3 Biturbo, Audi S3 saloon, Range Rover Hybrid, Renaultsport Clio 200 Turbo (non-Cup), 2014 Nissan GT-R and more go under the evo microsope
ColumnsRichard Meaden is worried about his Sunday afternoons, while Porter likes the new Mini in spite of the marketing. Dario's back, too LettersIn our new feature, Talking Point, we ask whether the new GT-R Nismo is worth the extra money over the standard car. You give us the answer
Porsche 918 SpyderThe waiting is finally over as we get to try the production version of Porsche's hybrid supercar on road and track Porsche 959 Sport & Carrera GTHenry Catchpole ponders what connects these two iconic Porsche supercars (the answer's just below, as it happens…)  
Porsche 911 GT1We drive the rare road version of a car that rewrote endurance racing rules and links the Porsche 959 to the Carrera GT
Future of the performance carWe look into our crystal ball and see a future that's small and efficient
Audi RS4 AvantsAn unconventional Jethro Bovingdon fails to mention Labradors or antique dealers but does get some oversteer
Forza 5 v Real LifeIs there any need to go to a trackday or is it just as much fun to sit at home on the Xbox?
Corvette StingrayMike Duff drives the new Vette on Route 66
TWR Jaguar XJSMany said it would never happen but Dickie has found a way – there's an XJS in evo
Long-term testsTwo Celicas this month: Matthew Hayward introduces his GT-Four and Henry recalls a Castrol-liveried one
evo knowledgeEver fancied a Suzuki Swift Sport? If so, we tell you what to look for
Art of speedThe Pagani Huayra's wing mirrors: has carbonfibre ever been more beautifully wrought?
Try evo Magazine's new app on iPhone or iPad
Try evo Magazine's new app on Android devices
Buy a copy of evo 192 in our online shop
Subscibe to evo electronically on Zinio here