Hennessey Venom GT World's Fastest Edition
How do you celebrate nicking the Bugatti Veyron's world's fastest car title? With a patriotic limited edition. Meet the Hennessey Venom WFE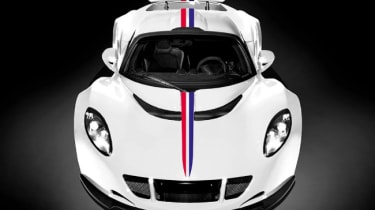 Hennessey is celebrating its record-breaking supercar with an ultra limited edition. It's a year since the Venom GT completed 0-186mph in 13.63sec, the quickest time ever recorded for a production sports car. And while the Venom's top speed that day couldn't eclipse the Bugatti Veyron's 268mph, Hennessey's uber-Lotus has now recorded an official 270.4mph at NASA's Kennedy Space Centre.
The world's fastest supercar is now American, then. And to celebrate, Texas-based Hennessey has made three patriotically coloured 'World's Fastest Edition' GTs. 'We wanted to offer a special paint scheme that would incorporate the colours of the American flag – the same flag we flew on the Space Shuttle runway. Thus, our special livery package includes a body in white with red and blue stripes' said company founder John Hennessey.
Underneath, it's the same Venom GT that bowled us over in 2013. The body is a modified (and elongated) Lotus Exige, but the similarities with little Toyota-powered British sports cars are few. The GT's rear wheels are powered by a mid-mounted 7-litre twin-turbocharged V8 engine, with 1244bhp and a faintly ludicrous 1155lb ft of torque. A 1244kg kerb weight – less than a Ford Focus – yields a 1016bhp/ton power-to-weight ratio, around twice that of a standard Veyron. A claimed 2.5sec 0-60 time accompanies that blockbuster top speed.
Priced at 1.25million dollars (£750,000) – little more than standard – all three Venom GT WFE editions have already sold out.
Very few people have been behind the wheel of the Venom GT, but we had a go last year and discovered there's much more to it than bald numbers. Watch the Hennessey Venom GT video review below…