Already holding the Guinness World Record for quickest 0-186mph time - accomplished in a brisk 13.63sec (and witnessed by evo in our Venom GT video) - Hennessey Performance claims its hypercar is faster than the Bugatti Veyron Super Sport.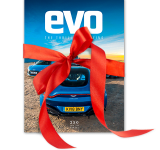 Subscribe to evo magazine
If you're passionate about the world's greatest performance cars, experience the thrill of driving with evo magazine. Try your first 5 issues for £5.
The Super Sport holds the production car record at 267.8mph, but Bugatti limits its production models to 258mph due to safety concerns. It also takes four miles to reach that speed, the Venom reaching this recorded maximum on a two-mile airfield. Hennessey also reckons that the given a longer stretch of tarmac the Venom GT would exceed 275mph.
Hennessey's Venom GT is powered by a 7-litre twin-turbo V8 producing 1244bhp, and it weighs just 1244kg – significantly less than the Veyron's 1838kg.
The time was set by the seventh production Venom GT, Hennessey planning a production run of 29 cars. A third have already been sold at a starting price of 1.2million dollars.