Di Grassi laps Donington in Formula E car
Lucas di Grassi laps Donington Park in a Formula E car. Video and details here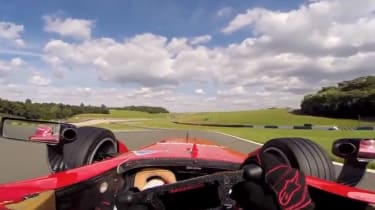 If you've ever wanted to know what it's like to get behind the wheel of a Formula E electric single-seater racing car, you now have an answer thanks to Lucas di Grassi.
The answer is windy - very, very windy. It's hard to give a definitive verdict on the aural qualities of Formula E before the series kicks off in Beijing this September, but it's clear the drivers will have to get used to the silence of electric racing, as well as the spectators. For fans already concerned about the lack of noise in Formula One, Formula E may be facing an uphill struggle.
Visually though, the series is off to a good start. With a camera strapped to his visor, di Grassi's windswept lap is as close as most will get to driving one of this year's Formula E vehicles. It's a long way from point and squirt - di Grassi spends his lap fighting for grip on the series' road-style treaded tyres.
The Brazilian endurance driver partners German racer Daniel Abt in the Audi Sport ABT Formula E team. Despite the German carmaker's involvement, ABT's car is identical to other vehicles in the series for its inaugural year. While Formula E gets off the ground, every team will use the same Spark-Renault SRT 01E chassis. Each team is developing its own unique car on the sidelines, ready to compete in subsequent seasons should Formula E grow in popularity.
The early pace in the recent Donington test session was set by di Grassi and ABT, recording the fastest time in the first two days of testing. Former F1 driver Sebastien Buemi, driving for the e.dams Renault team, proved fastest in the following two sessions. 'It was my first time driving the car with full power and I'm really pleased with the performance', said di Grassi after the second day of testing.
Several drivers noted the difference in performance between qualifying and race settings during the initial test. Formula E rules require that race power is scaled back from the full 200 kilowatts (268bhp) to 133kW (178bhp) to preserve range over each one-hour event - though drivers will be able to use a boost button for a temporary full-power surge when passing.
With qualifying lap times in the 1:31 range, initial pace is just a whisker off the fastest laps set by Formula 3 cars around the full Donington GP circuit, giving spectators a clue as to the kind of racing they can expect when Formula E hits each of the ten street circuits during the season.
Those street circuits, including events in Berlin, Miami and Monaco, should allow spectators to get closer to the action than many single-seater series. Whether they'll like what they hear will remain unanswered until the season draws to a close in London on June 27 2015.