Local Motors previews 3D-printed sports car
Could 3D printing provide the key to the future of the sports car? American company Local Motors thinks so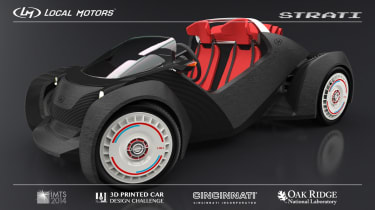 Tough economic conditions mean that low-volume sports cars are rarely viable for major car companies these days, but crowdsourcing and 3D printing could allow smaller manufacturers to take up the slack.
American firm Local Motors is applying both techniques to its latest project. The firm is best known for the Rally Fighter - a desert racer with a coupe-style body and a Chevrolet-sourced V8 engine.
The Rally Fighter's design was essentially 'crowdsourced'. Local Motors held a contest to determine which of thousands of designs submitted would become the final product, after which the vehicle is built in 'micro-factories' around the U.S.
Local Motors has also produced a range of two-wheeled vehicles in a similar fashion, but its latest project, a lightweight two-seater sports car, throws another factor into the mix – 3D printing.
The advantage of 3D printing is that it allows complex, intricate designs to be produced without concession to expensive, time-consuming tooling. For Local Motors, whose unique selling point is the ability to design, innovate and manufacture at far greater pace than monolithic car companies, the technology is an ideal fit.
More than 200 entries were submitted to the sports car project, with Michele Anoé's Strati concept emerging victorious. With 'an excellent balance between innovation, complexity and practicality', Anoe's entry has been chosen to make its debut at the International Manufacturing Technology Show 2014 in Chicago from September 8-13.
For the show, the prototype Strati's structural components will be 3D-printed using a technique known as Direct Digital Manufacturing, or DDM. Using a machine developed at Oak Ridge National Labs, the DDM process can print 3D objects at high speed, before the same printing head then returns to machine each surface to a more precise specification.
Local Motors is now in the process of choosing which engine will power Anoé's design before it makes its debut in September. A Subaru boxer-four is currently leading that race, though the Mitsubishi Evo X's 2.0-litre turbocharged unit is also under consideration, and Local Motors' community suggestions also include Hyundai, Ford, General Motors and Volkswagen powerplants.
At a time when Nissan is reconsidering its own small sports car program, Local Motors' timing couldn't be more apposite. As volume sports cars become harder to justify, smaller firms using 3D printing technology and crowdsourced design could be the key to their future.