2014 GT Academy winner
The 2014 winner of the Gran Turismo-derived GT Academy has been crowned. Meet young Frenchman Gaëtan Paletou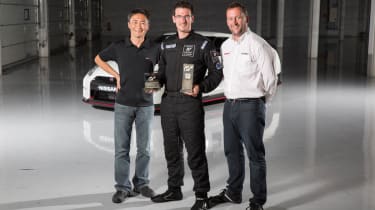 The NISMO PlayStation GT Academy 2014 winner has been crowned at Silverstone Circuit. After a gruelling eight days of being pushed both on and off the track, Gaëtan Paletou was declared the winner of the 41 European finalists.
Paletou, a 22-year-old from Barzun, France, now has the opportunity to prove that he has what it takes to become a NISMO Athlete and race all over the globe for Nissan. Previous winner Lucas Ordoñez now races in the Japanese Super GT series and Jann Mardenborough won a race in this year's GP3 series, while both have competed at the Le Mans 24 Hours, among other endurance races.
Over the eight-day period, competitors were trained and mentored by a number of professional drivers in a range of Nissans including the GT-R and a 370Z racecar. Other challenges came in the form of physical tests such as Mud Mayhem courses and Rage Buggy Racing.
On the final day the seven remaining competitors set lap times around Silverstone Circuit, the slowest two being eliminated to leave the final bunch to battle it out on track in the 370Z racers. The final decision was made amongst the judges and Paletou was declared as the victor.
'It's incredible', said an elated Paletou. 'I was so happy that I won the race, but I didn't know that I would win GT Academy.'
Paletou will now go on to enjoy four months at one of the most advanced and successful driver development programmes in the world. This will be followed by Paletou racing for the Nissan NISMO race team in the testing international Dubai 24 Hour race in January 2015.