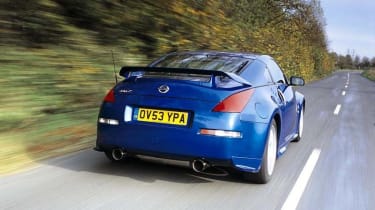 The 350Z's 3.5-litre V6 has always made a good noise; there's just never been quite enough of it. The obvious answer is to fit a freer-breathing exhaust, but Nissan has yet to make Nismo tuning parts officially available in the UK. Over to the tuning specialists...
ABP Motorsport, based in Crewe, is sole importer of DC Sports products from the US. When sales director Chris Meredith rang to ask if we'd like our Z to be the first to be fitted with the DC Sports system, we were intrigued. And when it returned with the new system in place, we were blown away. Jeez, has the Nissan found its voice!
The components we've had fitted are ceramic three-branch exhaust manifolds (or headers) and a stainless steel cat-back exhaust system (the original cat is retained). DC Sports claims that the better breathing releases around 10 extra bhp, and it certainly seems to pick up more cleanly, rather as though it was breathing though a blanket before.
But it's the new soundtrack that's the big news. Now it fires with an explosive bark, pulls through the mid-range with a purposeful snarl not unlike a 911 with the factory sports exhaust, and past 4000 flattens the snarl into a brassy blare that lasts all the way to the red line. It's amazing how changing the exhaust can change your perception of a car: the Z seems to have gained a racerish edge, a bit of welcome extra fizz. Equally important, it'll cruise with barely any more background boom than the standard kit. The system's not cheap (£439 for the headers, £871 for the stainless pipework, £200 for fitting) but if you really want to hear the V6 bellow its heart out then it's money well spent.
It's another reason why I'm going to miss the Z terribly when it goes back in a month or so. It's not been absolutely faultless, mind. I mentioned the faulty headlight washer mechanism, recently repaired; now the driver's side electric window has failed. Fortunately it's stuck in the closed position.
Running Costs
| | |
| --- | --- |
| Date acquired | December 2003 |
| Total mileage | 26,060 |
| Costs this month | £1510 (see text) |
| Mileage this month | 887 |
| MPG this month | 24.9 |