Nissan 370Z
There's a lot to like about the 370Z if you just relax...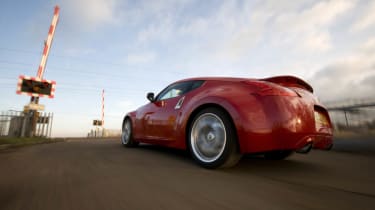 When Henry suggested we swap cars for a few days, I didn't think I'd still be hogging his 370Z three weeks later. I certainly hadn't planned it that way, because on previous encounters me and the Nissan hadn't really clicked. Its ride seemed unnecessarily jiggly, the somewhat droney sound of the engine as it reached for the 7500rpm red line was a let down, and, most importantly, every time a decent stretch of road presented itself I struggled to settle into a decent rhythm with the car. Progress always seemed a bit… clunky.
This time, though, things were different. The ride, while still fidgety, seemed infinitely preferable to the Z4's, with its stiff side-walled run-flat tyres crashing through the plethora of potholes the winter weather has left behind. More curiously, I soon found myself enjoying some very satisfying drives in the red Zed.
So what had changed? Well, I'm putting it down to the combination of permanently wet roads and well-worn rear tyres. Big skids on every open bend? With a grippy front end and a slippy rear, that would certainly have been an option (as I had a lot of fun discovering when I tried the Nissan on track) but it was more the way those conditions encouraged me to drive the car in a smoother, more considered manner – carefully measured throttle inputs, steering with -fingertips – rather than trying to bully every last ounce of performance from it, as in the dry.
Approached thus, the 370Z and I really began to hit it off. And because I was enjoying the V6's impressive mid-range torque and changing up early rather than constantly chasing the red line, my disappointment with the engine sound all but evaporated. I returned the keys to Henry a much bigger fan of Nissan's Zed. In fact I'd go as far as to say I enjoyed it as much as I do BMW's. I think I'd miss the convertible roof come the summer, though. Then again, there's always the 370Z Roadster…
Running Costs
| | |
| --- | --- |
| Date acquired | July 2009 |
| Total mileage | 11,438 |
| Mileage this month | 1431 |
| MPG this month | 25.1 |