Nissan GT-R
Testing the GT-R's performance tweaks was quite satisfying...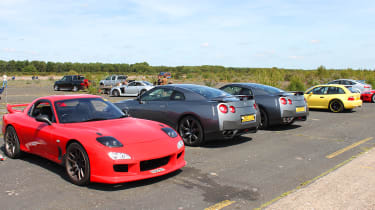 One of the pleasures of using a Cobb Access Port to tune the GT-R has been the superb support from supplier GTC (www.gtc-r.com). Recently, for example, they e-mailed me a Stage 2 map designed to be used with a minimum of 99 RON fuel, i.e. Tesco super unleaded or Shell V-Power.
I had the chance to put it to the test when I attended this year's Fighting Torque drag-racing event (www.fightingtorque.org) at RAF Woodbridge. I almost felt sorry for the driver of Godzilla 2's first victim, a TVR Griffith 500, as it got blitzed over the mile-long course by a predictably massive margin. The same one-sided result occurred with numerous subsequent contenders, including a standard GT-R, with my best time of the day being 28.712sec and my best terminal speed 174.7mph.
Interestingly, the car seemed every bit as fast left in Auto mode as it did hanging on to the gears in Manual. I also tried both switching the ESP off and leaving it in R mode, but there wasn't a great deal of difference between these two either. Even the 'launch control' mode seemed to offer precious little over simply nailing the loud pedal from a standstill. I don't think a less dramatic road-going drag car has ever been built!
The tables were eventually turned when a Noble M12 M400 got the better of Godzilla 2, but then this particular Noble happened to be a former Fighting Torque champion and probably should have been re-badged 'M600', as that would explain the crazy 28.162sec and 180mph that owner Adrian Winch managed to post that day. As Jedi Master Qui-Gon Jinn wisely said, 'There's always a bigger fish…'