Video: Nissan GT-R GT3 hits the track
Nissan has announced the official release of its GT-R NISMO GT3, and here's a video of the car on track.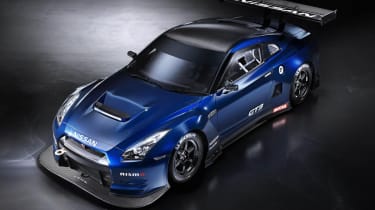 Nissan's GT-R GT3 has been developed by NISMO, in partnership with JR Motorsport - parent company of Sumo Power, JRM and Sumo Power GT. It's fully FIA GT3 compliant, having been tested extensively - including three competitive runs.
The racer is powered by a 3.8 twin-turbo V6 based on that of the road car, but producing slightly less power (522bhp) to meet with regulations. It also does away with the road car's front driveshaft.
Designed to be confidence inspiring and eminently drivable, NISMO and JR Motorsport have developed the car with 'customers in mind'. Sales to privateers have begun worldwide through both NISMO and JR Motorsport, the price sitting at a cool €298,000 (about £249,000).