Nissan teases GT-R related news for New York auto show - even more power?
Move towards premium for what could be final updated version of R35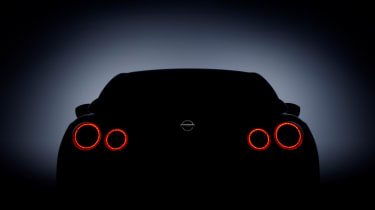 Nissan has posted a teaser image of the GT-R along with the promise of something new for the New York auto show. Set to be unveiled on Wednesday March 23rd, the picture shows the rear end of the R35 GT-R, along with its iconic tail lights.
Nothing is currently known about exactly what Nissan has in store, although chances are it'll be a facelift for the current GT-R and not a new car entirely. 
GT-R programme manager Hiroshi Tamura has been quoted as wanting to make the car feel more premium. Interior quality and NVH levels are behind rivals, so its entirely possible this update is purely cosmetic and not performance related.
Even so, Nissan has frequently upped power in the GT-R over its lifecycle, with major revisions in 2011 seeing performance boosted up to 542bhp and torque up to 451 lb ft.
>Read our Nissan GT-R track edition review
Introduced for 2015 was the GT-R Nismo. Boasting an incredible 7.08.679 Nurburgring time, revised aero, a carbon rear wing and an extra 100kg of downforce, it's the most hardcore iteration of the R35 produced.
As for 2016's car, evo's Jethro Bovingdon has a bit of a shopping list of changes that he'd like to see implemented. Do you agree?
A better screen, a 'favourite setting' for the suspension, traction control and drivetrain and less weight. Tyres that perform better in standing water would also help. But whatever happens, don't get rid of the signature clunks, rattles and bangs at low speeds.