Updated Nissan GT-R: Nissan GT-R
Nissan's giant killing eCoty 2008 gets tweaks and price rise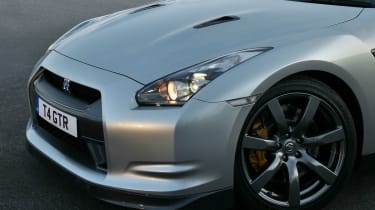 As we reported last month the Nissan GT-R, evo's car of the year for 2008, is already enjoying its first round of tweaks. Electronic fine-tuning means power gets a slight 5bhp hike (taking output to 478bhp) although torque stays the same at 434lb ft.
The car gets Dunlop SP Sport tyres as standard, the rubber that was specifically designed for use on the GT-R and which pointed it towards its claimed 7min 29sec around the 'Ring. The tyres are wrapped around new Gunmetal grey Rays seven-spoke alloys (pictured), although these change to black for the GT-R Black Edition. There's also the option of a new Storm white paint hue.
Prices for the upgraded Nissan coupe start at £56,795, with the Premium Edition commanding an extra £1300 and a further £1300 getting you a limited Black Edition. It signals a rise of nearly £4k over the GT-R currently due for UK deliveries in April, with exisiting orders being for the v1.0 car. Anyone ordering one of these tweaked GT-Rs should expect delivery in the middle of 2010. So far there's been 1200 UK orders for the 473bhp car.