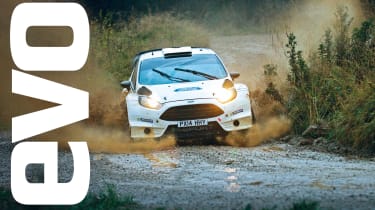 Of all motorsport disciplines, the WRC (World Rally Championship) places the toughest demands on everyone who takes part in it. Long stages and short. Scorching heat and sub-zero cold. Snow and ice, dust and rocks. Dry tarmac and rain-drenched mud. The teams and their cars have to cope with every eventuality.
 And so do the Michelin rally tyres, one of four brands officially approved by the sport's governing body, the FIA, for use in the WRC, and chosen by all the front-running teams.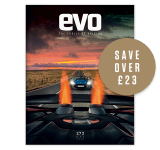 Subscribe to evo magazine
Subscribe today to have every issue of evo delivered straight to you. You'll SAVE 39% on the shop price, and get evo for its original cover price for a whole year!
The design and construction of Michelin's rally range has to be versatile enough for the tyres to perform impeccably in vastly different conditions spread around the far-flung corners of the world. By creating tyres that can handle the stresses and strains and diversity of a season of flat-out rallying, Michelin's engineers learn valuable lessons about how to make the company's high-performance road tyres perform to their optimum year-round. 
Today's outing to a forest in Cumbria is a chance to watch those Michelin WRC tyres in furious action and marvel at their ability to keep a rally car controllable in typical Wales Rally GB conditions. We're privileged guests of Malcolm Wilson's Ford M-Sport operation as the team tests the setup on one of its Fiesta RS WRC cars, driven today by Elfyn Evans. But before we're formally introduced we witness the Fiesta bellowing and snorting along the forest track, great rooster-tails of water and mud being flung up behind it. 
As the broad little Ford thunders towards the sharp left-hand turn where we're standing, the nose suddenly dips as Evans hits the brakes, then the car is sideways and kicking up a tidal wave of stones and orange mud. Despite the speed of the manoeuvre and the slipperiness of the surface, the Michelin tyres simply dig hard into the dirt and keep the Fiesta pointing precisely where Evans is aiming it.
 Shortly afterwards at the service area, we ask the young Welshman Evans what he needs most from his Michelin rally tyres. 'I think that the big quality that we have at the moment with the Michelin tyre is strength and durability,' he says. 'The amount of things that we hit and clip and brush with the wheels during a stage, whether it be on gravel or tarmac, well it's very, very rare to have a puncture. Obviously with the field as close as it is now, if you do have a puncture or a problem that maybe costs you two to three minutes, you're basically behind for the whole weekend, and it's very difficult to recover from that. Having a reliable tyre that provides cutting-edge performance for all the crews makes for really exciting racing.' And what about the tyre requirements on the Wales Rally GB? 'Rally GB is quite a specific one [event]; normally on a gravel event you try to be as smooth as possible and look for the clean line, but Rally GB flips that on its head, especially if we get what they call a "polished surface" that offers very little grip. In which case you always look for the unused line, which sometimes, of course, involves ditches, which can be a bit risky, but often you will find more grip in those areas.' 
Ford M-Sport's rally team engineer, Mark Lowe, gives us some further insights into the importance of understanding the characteristics of the Michelin tyres: 'For Rally GB our tyre choice is dictated by the surface conditions and the weather. If the surface is shiny clay with lots of standing water, what we need is tread depth, and those wetter conditions favour a soft compound. 'In testing we see what happens when you use the wrong compounds in the wrong circumstances – this is important, because on some of the longer stages you can be faced with very variable conditions. On the Saturday morning of Rally GB, for instance, we have to go for 68 stage miles without a tyre change.
'And if the rally happens to be dry, we might opt to run a mix of hards and softs – that's why we try to amass as much data as possible during testing, so that during the rally we can have an optimum setup whatever we come up against.' Evans and the Fiesta RS WRC pound around the forest all day in the unrelenting rain, pushing components to their absolute limit. But remaining faithful throughout are the Michelin rally tyres: not a single puncture, the holy grail of rallying. Durability and high performance in hugely diverse conditions are the qualities Michelin expects from its rally tyres – those are values passed on to Michelin's highly respected road tyres, too. 
The eventual winners of the Wales Rally GB were Sébastien Ogier and his co-driver Julien Ingrassia in their Michelin-shod Volkswagen Polo R WRC. Their victory brought Michelin its 288th stage win in world-class rallying.