"Give it ten years, never mind 20, and DIY gearchanging will seem like a lost art"
Porter suggests that the mass proliferation of automatic gearboxes doesn't mean our left legs should become redundant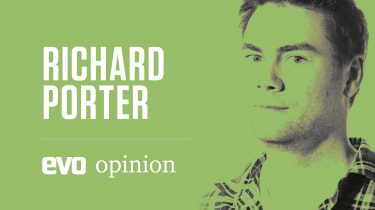 This column was first published in evo issue 199.
You might have seen an online video of Texan speed merchants Hennessey running their Venom GT up to 270mph on the 3.2-mile runway at Kennedy Space Center. It's a remarkable piece of footage, not least because they found someone with the solid brass kahunas to max a 7-litre, twin-turbo, 1244bhp V8 in the middle of a hacked-about Exige. In case you're wondering, this extraordinary man went by the extraordinary name of Brian Smith. 
The Americans claimed Brian's heroic endeavour as a Bugatti-baiting world record, but a Guinness entry requires an average from two runs in opposite directions and NASA wouldn't let Hennessey turn around and go t'other way. This was because there was expensive hardware at that end of the tarmac and they didn't want it damaged by flying bits of ex-Exige. It's embarrassing to cancel a mission because the lander has been compromised by a burning Vauxhall column stalk.
The most striking thing about the Hennessey vid isn't the sheer speed, however. It's what happens on the way there. The Venom GT has no double-clutch paddleshift or torque-converter auto. It has six on a stick and a pedal to the left of the brake. And when you watch the footage of its high-speed run you're struck by how long and painfully slow each gearchange seems. The engine blares towards the red line, the speed builds at a breathless rate and then there's a pause and a gap so achingly long and loaded it could be dropped into a Scandinavian crime drama. In 2014, when we're accustomed to whip-snap paddleshifts, a car with an old-fashioned manual 'box sounds strange. In fact, it sounds like ancient history. 
Ferrari doesn't make anything with foot-operated clutches any more. Nor does Lamborghini. All Porsche's really juicy stuff is paddle-only from now on. And Jaguar, another carmaker that's lost the phone number for its clutch pedal supplier, has proven there's life in the true automatic 'box with some masterful tuning of the eight-speed ZF 8HP in the XJR and F-type. The two-pedal trend is going to spread at the other end of the car spectrum too, because double-clutchers are getting cheaper and can be tuned to benefit headline emissions ratings. Give it ten years, never mind 20, and DIY gearchanging will seem like a lost art. 
I'm not going to argue the pros and cons of this. There are plenty of cars that are ghastly with a dual-pedal system and plenty that are very excellent with paddles behind the wheel. I'm merely here to report the facts. In the future, more and more cars of all types will have only two pedals. And this leaves me wondering what we can do with our superfluous left legs during driving. I'm starting to think it's time to give them other jobs. 
After all, there's precedent for this. In the middle of the 20th century many cars had their windscreen washer buttons or headlight dip switches on the floor, designed to be operated with a tap of the left foot. How this worked if you suddenly needed to change gear, I'm not sure. Perhaps heel-and-toeing in the 1950s meant something entirely different. Or the same, but for both feet. Maybe Paddy Hopkirk got his drive in a works Mini for his uncanny ability to brake, de-clutch, rev-match and flash the headlights all at the same time. 
Anyway, if people in old Triumphs and Hillmans could use a clutch and operate some additional function, I'm sure as hell we can manage this. Not the main beam or the screen washers – we're all used to those on stalks these days. What I'm thinking of is a programmable, floor-mounted button that can be assigned to simple tasks. No more fumbling for the recirculate button when a van parps a black cloud into your intakes. No more dabbing for that tiny rectangle on the wheel that answers your phone. It's all underfoot. Or, better yet, what about a Sport button?
> Porsche 911: manual vs PDK gearbox
Imagine a moment when you break free of the suburbs and find yourself on an unexpectedly lovely piece of sweeping A-road. You're in an AMG Mercedes or a 911 Turbo, something that's going to make the next few minutes worthwhile. But normally you'd have to look down to find the various buttons that switch the car's systems into full helmsmithery mode. Not any more. Instead, you casually pivot your left foot to the button in the top corner of the footwell and you're ready to give it some welly. 
And then, when you come to a village, you'll no longer need to follow a firm smudge of the brakes with a frantic search for the buttons that kill the strident exhaust noise and stop the 'box hanging on to second at 30mph. A quick tap of the left foot and the car is all calm again. 
It's a simple idea but I like to think it might work, especially in high-performance cars. Although maybe not in the Hennessey Venom. On the evidence I've seen on YouTube, you'll need your left leg entirely for clutch work. And probably for bracing.
Richard Porter is the man behind Sniff Petrol. Read more of his musings by clicking here...