'Some famous names are deadly serious about e-sports and have spent a bomb on a new home racing simulator'
Lockdown reminds us how good it feels to get in a car - real or otherwise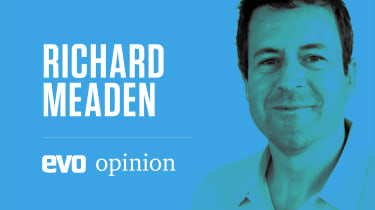 As I write this we're well into the sixth (or is it the seventh?) week of UK lockdown. There's a faint glimmer of hope that by the time you read this we will have begun to regain a little of our old routines and freedoms, but for now life remains in a weird kind of stasis.
I'm thankful the virus has so far failed to affect anyone close to me and hope beyond hope this remains the case. Likewise, not having a pack of increasingly fractious kids to home school would seem an increasing blessing. Work is problematic insomuch as I'd be hard-pushed to describe driving a supercar to Wales as essential travel. Do I miss driving? Hell. Yes. Not just the silly work-related stuff either. If there's an upside to being rationed to essential journeys it's that I've been reminded how nice it is to just get in a car (any car), get out into the world and take control of your destiny. Even if it's just for a few blissful miles.
As lockdown continues I think we're all slowly coming to the realisation that not only will the exit be gradual, but that any re-emergence of the virus will probably lead to a return to some degree of confinement. It's this open-ended uncertainty I find hardest to deal with, because it denies us the pleasure and distraction of making future plans or taking spontaneous trips out. Given all this, it's hardly any wonder that beyond our own four walls strange things appear to be happening in the wider car community. I know social media means we have a tendency to live inside our own little bubbles, but from what I can tell, lockdown has proved to be a boom time for retailers of racing simulators, Tamiya R/C models and podcast recording equipment.
Of these I've never had the patience to build an R/C car, let alone wait for the batteries to recharge. As for podcasts, despite having more available time than I've ever had in my adult life I seem to have gone cold on lockdown listening, largely because I always settled into them on long drives. Still, at least this means there'll be plenty to catch up with when we do get back in our cars.
What I have found myself drawn towards is online racing. Despite being an avid user of Gran Turismo throughout the late-'90s and noughties, as yet I haven't returned to it as I've been in the very fortunate position of being able to gorge myself on driving real road and race cars. Denied the chance to do any meaningful road miles, though, and with the increasing likelihood of all racing being cancelled this season, I'm really beginning to itch. Clearly I'm not alone. The rise and rise of e-sports was happening before Covid, but when everyone is shut indoors and all motorsport is on hold, it's no wonder people start reaching for a virtual fix.
Current Formula 1 drivers can be found competing in the official F1 Virtual Grand Prix races, which are standing in for every postponed Grand Prix. They're just for fun, and admittedly not everyone is taking part – I would imagine Kimi is spending lockdown playing the Withnail and I drinking game – but it exposes the majority of the present-day F1 grid as active gamers.
Part of me finds this a bit sad. Not least because I'm from a generation for whom racing heroes were untouchable, god-like characters to be placed on pedestals, not found lurking in online gaming lounges racing strangers with Vitamin D deficiencies and vaguely sinister gamertags. But part of me also acknowledges there's something extraordinary about going wheel-to-wheel with Max Verstappen. I don't yet have a home sim or gaming rig (hint, hint) so can't claim to be an active participant in the e-sports scene. However, I have been following professional and retired former pros 'racing' one another in 'Legends Trophy' invitation grids hosted by The Race as part of its All-Star Esports Battle series.
I have to say it was an entirely authentic spectacle. That's to say it looked like a lot more fun to be racing rather than just watching. But there's considerable novelty value in seeing famous names racing in DFV-powered F1 cars. Especially when you know from their social media feeds that most are actually deadly serious and some have just spent a bomb on a new home sim. Highlights for me were seeing the ever-contrary Jacques Villeneuve race to an impressive 6th-place finish using nothing fancier than an Xbox hand controller and a laptop. Likewise Emanuele Pirro storming to a reverse-grid victory using an ancient gaming wheel and a TV balanced on a shoebox.
Whether the vaguely chaotic spectacle of revered F1, IndyCar, Le Mans and touring car legends shamelessly firing one another off, settling old scores and discovering they still can't beat Jenson Button survives beyond lockdown remains to be seen. For now, though, it's a bit of light relief and perhaps a pointer to how we engage with fast driving for the foreseeable future.