The twists and turns of a new Netflix drama have got Porter gripped
'The series is based around a rag-tag cast of characters forced into a crazy struggle for survival'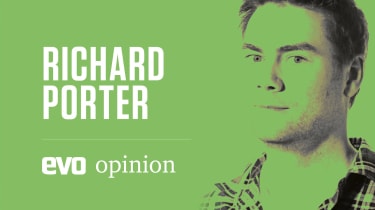 There's a lot of great TV out there at the moment but one of my recent favourites has to be Stellantis (Netflix, as of 16 January). From the first few seconds, once its needlessly long title sequence has finished, Stellantis will have you gripped as you try to understand how they will make this work.
The series is based around a rag-tag cast of characters forced into a crazy struggle for survival, one of the most compelling of which is Fiat, a proud Italian still acting like a major player with an important empire, though this empire is palpably crumbling. The scene in which Fiat is asked why once-favoured son Punto isn't around and has to admit that Punto has been killed is the most powerful I've seen on screen since the awful prolonged death scene in 2011's acclaimed Scandinavian drama Är SAAB Okej? (Is SAAB Okay?).
Fiat is of course surrounded by a family of cohorts in Italy, including the tragic Lancia, a once beautiful and successful household name, now reduced to a shadow of former glories and clearly waiting for death. Almost as sad are the characters of Alfa Romeo and Maserati, both struggling by on past successes that, it gradually becomes clear, probably weren't successes at all. The compelling tragedy is that both continue to claim a big break is on its way, yet, as ever, it remains just around the corner. For me, the only character that doesn't work in the Italian scenes is Abarth, Fiat's near-identical brother who seemed at one point to be assuming a larger role but now appears sidelined and ultimately pointless. Sometimes you see Abarth on screen and have to look hard to see it's not Fiat, save for the increase in noise.
> All-new Fiat 500 priced from £19,995 in the UK
Speaking of identity crises, Stellantis also features plenty of action in France starring Peugeot and Citroën, two characters familiar to anyone who watched the long-running French series PSA. Back in the '90s fans of this show felt it had lost its way as the lead characters became almost interchangeable, but when we find them in Stellantis much seems to have changed. Peugeot has been working hard to win back the looks and dynamism that once brought great acclaim, while Citroën, once a very quirky character, seems to have rediscovered some of the old freewheeling spirit, or is it all just put on? The French scenes are very enjoyable, though you do begin to question why this seemingly successful pair have got involved with the rest of the characters, who will surely drag them down. Mind you, it seems Citroën isn't perfect in this respect either, maintaining loyalty to a wayward offspring called DS, easily the most pointless character in Stellantis.
A far more compelling plotline concerns a pair of orphan brothers, Vauxhall and Opel. This slightly underwhelming duo are actually identical twins, though for some reason they try to pretend they're from different places, and their story is a sad one. Having been abandoned by a parent and rescued by Peugeot, they now struggle to find a place for themselves in the world, but it's clear they want to occupy the same space as Peugeot and that's bound to lead to fireworks.
Speaking of fireworks, there's always something brewing with the American scenes in Stellantis, which revolve around Chrysler, a character some might remember as Mercedes' partner in the ill-fated late '90s drama Daimler. Chrysler is an interesting one, once a highly respected member of the Detroit scene but now conspicuously failing to come up with any new material and covering for this by getting louder and faster and hoping no one will notice. It's pretty obvious that Chrysler has picked up some bad habits from its ally Fiat, particularly trying to sell people out-of-date ideas dressed up as something new, but the predicament is made worse because Chrysler has a more successful friend, Jeep, who seems able to look forward and come up with new things and has little in common with Chrysler or Chrysler's moronic half-brother, Dodge. These twists and turns are made even more complicated by the presence of Ram, an all-American character who is aware of the Fiat family and those former PSA guys, but has no interest in going to Europe and nothing to offer those far-flung associates anyway.
The tensions are obvious and tension is surely what Stellantis thrives upon. Peugeot is after the same thing as Vauxhall and Opel but ironically the latter pair can only survive with the support of the former. At what point does Peugeot tire of this situation and deal with the troublesome twins by killing them? For how long will Fiat keep funding hangers-on when its empire has been allowed to wither? When do Chrysler and Dodge admit to themselves that they can't keep trotting out the same well-worn party tricks year after year? 
Stellantis is a fascinating show and I won't be able to stop watching for however long it lasts. In this respect, and many others, it reminds me of that classic 1970s BBC drama, British Leyland.