'Greater ability means you can tackle even more extreme terrain, climb madder climbs'
Turns out the Thrill of Driving doesn't have to be limited to on-road pursuits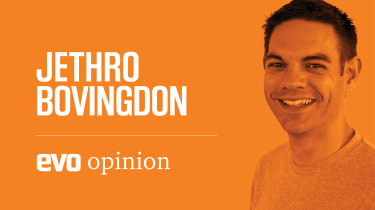 I think I like off-roading. This is a troubling development. People who like off-roading are a different breed. They drive Defenders in faux military colours and have 1000 tins of food buried in their back garden. They wear heavy steel-capped boots to Tesco, faded T-shirts of some crappy '80s rock band everywhere and probably know how to filter their own urine to create drinking water should the need ever arise. They use CB radios. I repeat. They use CB radios.
Yet that's not the off-roader's worst sin. Oh no. What I've never understood is how they derive so much pleasure from going so s‑l‑o‑w‑l‑y. Creeping inch by inch through bogs, up slopes that you could, y'know, drive around, and then attacking descents with such vigour they actually have a person stand in front to guide them down one rock, root or fallen branch at a time. They spend thousands of hours and considerable sums creating vehicles with tortuous axle articulation and unthinkable approach and departure angles only to traverse terrain literally at walking pace. Sorry for all the italics. Think of them as a profanity substitute. These people deserve italics and profanity. They are f**king idiots.
Don't get me wrong, getting off the beaten path sounds really appealing. In a WRC car. I can't think of anything I'd rather do than slip, slide, float and yump across Wales, Sweden, Australia or Africa at high speed, with a support crew monitoring my every move and a nice warm bath and soft towels waiting at a nice hotel. A pursuit not so concerned with getting over the impossible but testing driver and machine to set a pace that seems improbable at worst and almost magical at best. Rally and Rally Raid maybe best describes our collective obsession with 'the limit' and gleefully trying to find it in the most thrilling ways possible.
> 2022 Land Rover Defender V8 revealed – £100k supercharged off-roader gets 518bhp
So, sitting at the foot of the Poison Spider Trail in Moab, Utah, I was at once spellbound by the sheer scale and eerie majesty of the Navajo Sandstone slickrock landscape and quietly dreading trying to reach its 1400ft summit. It would be a long, slow climb, but my Jeep Wrangler Rubicon should be more than capable. 'Just follow my lead,' said our guide. I nodded along, stifling a yawn. The thought of covering 13 miles in five hours had my pulse almost flatlining. 'This is not the Thrill of Driving,' I moaned (internally).
The first section is like a slickrock staircase. Max speed maybe 8mph. The Jeep shuffles and strides up giant boulders like they're not there. My heart is flickering and something else puckers a couple of times. Scanning obstacles for the fastest, most secure route is as imperative as taking just the right amount of kerb on a racetrack. 'Hmm,' I ponder. 'I suppose there is some challenge to this after all.' I assume it's just the novelty of a new activity and the growing appreciation for the unbelievable capability of a factory-standard Wrangler Rubicon. Talk about fit for purpose.
Yet this is merely the warm-up before scrabbling up near-vertical rock faces, edging over precipices and feeling the Jeep teeter on three wheels as its suspension contorts and slowly but surely walks, skids and judders its way over giant boulders. There are times I'm sure it will topple over. Others where I regret removing the doors (something you do in Jeeps, apparently) as beside me is a couple of feet of slippery rock and then nothing but a giant chasm and certain death. It's pretty awesome and, at times, unbelievably exciting. If I had a phone signal I might start googling the cost of winches, or researching DIY nuclear shelters for the garden.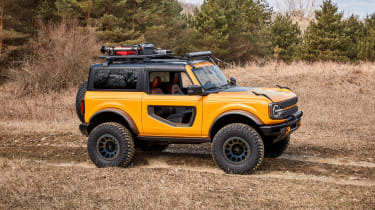 The best thing about it? With less speed there's less guilt. Off-roaders have probably, for all I know, become 'too good'. Maybe Jeep purists lament the automatic anti-roll bar disconnect. The Hill Descent Control. Just as sports car purists decry the easily accessible performance in a dual-clutch transmission, super-sophisticated ESC, overweight 'modern abomination'. But whilst this may ring true for road cars with ever higher limits, in the off-road world everything is flipped on its head; greater ability just means you can tackle even more extreme terrain, attain scarier angles, climb madder climbs and see ever more incredible sights. The enjoyment increases rather than being diminished. At the peak of the Poison Spider Trail, looking out over the La Sal mountains, I'm a believer.
I'm ready to get home, though. Ideally as fast as possible. On the road? That'd be nice. Something fast, light, unsociably noisy… But wait. The smart guys and girls have boosted-up buggies that rip up the trails but more importantly turn into mini WRC cars or Trophy Trucks or whatever your fantasy motorsport is over the bumpy, slippery, fast plains. The owners seem to have an unhealthy obsession with energy drinks and guns, but you can't fault their vehicle choice. That's real off-roading. And I'm certain I like it.