'There is no point to a car if you're not going to use it.'
Treating cars as investments is nothing short of wrong-headed, reckons Porter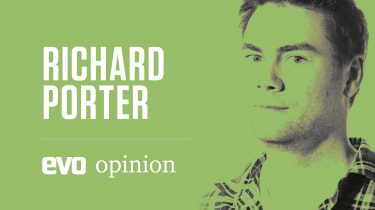 My car insurance renewal came through last week. My shoulders sagged and a long sigh escaped from my face. Anyone peering into my kitchen window might have assumed it contained a deflating sex doll staring at an envelope. I hate insurance renewal time. 'Dear Mr Porter, We realise you haven't used your insurance however we believe you might have seen an accident in the last year so we're increasing your premium by 87 per cent.'
But no. For another year's cover, my current insurance company wanted to increase my annual payment by just nine extra pounds. This seemed quite reasonable and, being busy and lazy, I would have simply said yes. Except that I've recently done one of those things that makes you feel more grown up: I've found a proper insurance broker, one that lets me talk to the same person every time rather than locking me into a spiral of pressing 1 to speak to yet another script-reading stranger with a Welsh accent. For Midlife Crisis Car 2, which you can read about on page 120, the broker had already sorted a good deal. Perhaps they could work their magic for Midlife Crisis Car 1, the Land Rover Defender Heritage I tried to justify to you, or possibly myself, back in evo 220. The good thing about the broker is that they already have my details and in order to get some quotes on the Land Rover they had just one question: what's it worth?
> Click here for our review of the new Range Rover Sport SVR
Well now, I know what I paid for it. And I also know it's generally assumed that these last-of-the-line, limited-edition Defenders have crept up in value. That became clear as soon as the Solihull production line shut down. Shortly afterwards I heard of two people with cars just like mine who moved them on in order to trouser a reasonable profit. For a brief moment I wondered if I should do the same. After all, how often do you buy a new car and then discover that it's gone up rather than down in value? Yea, yea, pipe down 911 R people – we know, we know. But then I realised, if I sold my Land Rover then I wouldn't have my Land Rover anymore. And I like my Land Rover. So that thought went away, and I got on with enjoying my life bouncing around in a retro-coloured piece of 1950s farm equipment.
But now the broker wanted a value. So I went online to have a look at similar cars for sale. And what I found was quite a shock. I won't be so vulgar as to share actual prices here, but suffice to say there are people out there putting some very stiff numbers against Heritage Defenders. Whether they're fetching those amounts, I don't know. But if they're getting even close, these old trucks have gone up quite a lot in percentage terms. And this means I'm facing one of those situations that would rightly earn a First World Problems hashtag on Twitter: I've got a car that's becoming too valuable to use.
At the time of writing there are a couple that are leggier than mine and are still up for daft cash, but in general the cars for sale seemed to have tiny mileages, which means people are stashing these things away. That's what you're supposed to do with cars of rising worth. Don't expose them to extremes of temperature or moisture or direct sunlight and for heaven's sake, don't drive them. 
Cold logic says that my car is now too valuable to use and should be preserved in time so that the only thing that moves is its theoretical sale price. Well I'm sorry, but screw that logic and the limited-edition horse it rode in on. What's the point of a car if you're not going to use it? If your biggest thrill is thinking about how much money it's making, you probably just need to sell it. Because in truth, there's no such thing as a car that's too valuable to use. So my Defender is going to remain parked on the road and driven around the streets of London or taken for another run up to the damp bit of farmland where we film The Grand Tour. I'm going to keep stuffing the kids in the back and letting the dog drool on the floor. I'm even okay with the moment a few weeks ago when TV's James May managed to spill tea on the passenger seat. Yes, every one of these things is probably chipping a few quid off the value but I get a pleasure from using the car that I don't get from a theoretical dream of appreciation. Anyway, Defenders are better with a backstory and a bit of patina.
If you really want an investment, buy some art. If you'd rather have a car then use it. So sod the notion of it being too valuable to use; I'm going to keep driving my Defender and nothing can stop me. Apart from, perhaps, a sky-high insurance renewal.