'Now everything has a Sport mode. Even my dishwasher has one'
Sport modes are everywhere… It's a shame most have the subtlety of a sledgehammer, says Porter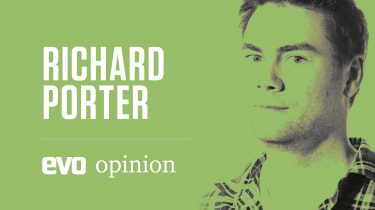 The Ferrari 250 GTO did not have a sport button. Nor did the Lamborghini Countach or the Lancia Delta Integrale. And I'm not sure anyone has ever marked them down for this. Now, however, everything has a Sport mode. Supercars, saloons, hot hatchbacks. Even my dishwasher has one, though it just makes everything faster and therefore even more likely to bake a trace element of Weetabix into a diamond-hard scab you have to smash the bowl to remove.
I'm not sure when the Sport button became a thing, but it was almost certainly in the '80s when increasingly advanced control modules allowed large German saloons to sprout a Sport mode on their automatic gearboxes. You dabbed a button by the selector and the changes got a little less slurring, although only in the same way that a fat barrister might be less slurring if you caught him in the bar at 7.30pm rather than 8pm. And that was it for Sport mode for the '80s and into the '90s. It made automatic 'boxes almost imperceptibly snappier, which is to say not very snappy at all.
> Click here for more opinion pieces by Richard Porter
However, sometime in the '90s and into the new century, with greater computing power and the rise of adaptive damping, Sport mode became more comprehensive.  I remember the first time I noticed this, in a Mercedes E55 AMG. Not the slabby one that always developed crusty arches; the softer shaped one that came afterwards. The W211, if you're a proper Merc nerd. Pushing the Sport button didn't just make a half-hearted stab at taking some slack out of the gearshifts. It sharpened the throttle and firmed the air suspension too. If you dabbed it in traffic you felt the revs rise a little, like the car was tensing itself. The difference between normal and Sport was obvious. Extremely obvious. You might almost say too obvious.
And this brings me to where we are today, in Sport mode Babylon. Even quite ordinary stuff has a Sport option and, by and large, these settings all behave the same, making an immediate and appreciable difference to the superficial feeling of the car. Which is where the problem lies. They're like Victoria Beckham's suit 'n' sunglasses bodyguards. Massive, obvious, not necessarily useful in the circumstances where you'd hope they would shine. Whereas what I'd like Sport mode to mimic is the security set-up I once saw protecting Prince Harry, which was two people in casual clothes discreetly hanging around in the background, blending in, monitoring the situation but, you could bet, quite able when required to snap someone's arm off. That's the sort of subtle but useful backup I want, yet few car makers do it. Porsche is a notable exception, and Aston's DB11 is pretty good too.
These, however, are the exceptions. Most performance-orientated cars lack this subtlety. They feel as if Sport mode isn't set up as the engineers and test drivers would like it because they've been overruled by the marketing department and market researchers who told them customers don't want a snadge more rebound damping and a whisker of extra response from the throttle. They want a car that feels sporty, even if that results in an idiotically stiff ride, pointlessly heavier steering and needlessly brutal tip-in on the accelerator pedal, none of which makes for better or more satisfying progress down a wiggly road. As a demonstration of how the average Sport setting is stiffness over substance, we once conducted an experiment on Top Gear in which a Golf GTI was lapped in Sport mode and then in its Comfort setting. It was actually a tenth quicker in Comfort.
Oh but wait, you think, lots of cars now have a programmable setting that lets you choose from a small smorgasbord of functions and blend them to your choice. And sometimes that helps. I've spent a lot of time in cars where you flick it into Sport mode and then five minutes later start prodding desperately through submenus to stop the damn thing feeling so artlessly leaden, and the solution to this is always, absolutely always, as follows: softer suspension, normal steering, sharper engine/gearbox response. Then later you go back to default normal mode and the throttle feels really flat, so you end up driving it the whole time in your personal configuration and wondering why the car wasn't just sold like that and the bloody Sport mode blanked off.
Which is, I'm afraid, where I'm going with all this. I'm bored of Sport modes and their fake 'sportiness'. The 250 GTO didn't have a Sport mode, nor did the Countach or Integrale. Perhaps because their creators just got the basic set-up right in the first place.
Richard is evo's longest-serving columnist, pen behind @sniffpetrol and script editor on 'The Grand Tour'