'Is it OK to repeatedly correct a 3-year-old's pronunciation of Porsche?'
After considerable efforts to control his pedantic rage, Porter is taking the high ground and not correcting his son's Porsche faux pas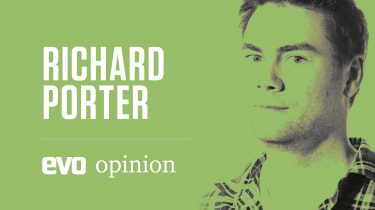 Pedantry is an awful burden, isn't it? Bristling at apostrophe misuse and 'less' where it should say 'fewer'. Hearing Americans claim they 'could care less' and fighting the urge to point out that this implies a leeway at odds with the point they're making. Grinding your teeth as someone says 'Robin Reliant' and trying not to shout: 'It's not Fiesta frigging Ford now, is it?' Part of being a normal, functioning human and not a tedious bore of the kind that infests the internet is suppressing these pedantic urges in polite company. But what about when you're with your own flesh and blood? Specifically, is it okay to repeatedly correct a three-year-old's pronunciation of 'Porsche'? 
I didn't force my boy to be interested in cars. Having interests is all well and good, but it's never nice to thrust them upon your children. Otherwise you'll find yourself barking furiously at an eight-year-old: 'Yes, you DO like cycling, Jamie. Now come on! Mont Ventoux won't ascend itself.' Besides, one day they'll become a teenager and their natural rebellion will manifest itself in a burning pile of tennis racquets/light opera scores/medieval re-enactment clothes at the bottom of the garden. 
The best thing you can do with your kids is let them find their own interests. And that's what I intended to do with my son. I like cars, but I wasn't going to railroad him into sharing that interest. Especially if he was more interested in actual railroads. The trouble is, when you have a boy-child, people insist on buying them boy-ish presents, and that includes toy cars. Lots of toy cars. The real car industry makes about 90 million vehicles a year. The toy car industry has managed to get that number into our living room alone. Some of these are cheapo cracker-fillers with wonky wheels and styling designed to avoid the wrath of copyright lawyers. Others are surprisingly detailed facsimiles of things we know. We've got tons of both. There's no stopping it now; my boy is obsessed with cars. 
> Click here to read more of Richard Porter's evo columns 
Even so, I tried to resist schooling him on the names of each and every recognisable model in case it looked like I was forcing my child into sharing my interests. Sadly, I cracked, and the tipping point was a McLaren P1. It came in a Hot Wheels set and it's a lovely little thing, right down to the slightly larger tyres on the back and the zingy yellow paint. My son called it 'the racing car' until one day I was compelled to fill in some detail. It's a McLaren, I said earnestly. 'Yes!' he shouted. 'A Claren!' No, a Mc-Laren. 'Claren!' he cried. No, erm… 
Shortly afterwards, I took him along to the Goodwood Festival of Speed. 'Is that a Claren?' No, it's a Ferrari. Also, son, it's… 'Is that a Claren?' No, that's a Lamborghini, but also the name of the car you're talking about is… 'Is that a Claren?' No, that's… oh wait, yes, that is a McLaren. Mc-Laren. It's pronounced… 'YES! CLAREN!' 
Then, while this correction was still a work in progress, another thing happened. I think I was out or away with work. Anyway, when I came back, my first-born child had something to tell me. 'Look daddy,' he said, waving around a little metal 911. 'It's a Porsh!' No, son, it's Por-shuh. 'Look! Porsh!' My wife, sensing the simmering well of pedantic bile poised to rise up in my throat, laughed to herself. My wife is American. Like a lot of her country people, she believes the name of Stuttgart's leading sports car maker to be a one-syllable word and could/couldn't care less about my objections. This is your fault, I hissed. As evo contributor Henry Catchpole once quietly observed upon hearing of some other piece of ghastly pedantry on my part: 'Sorry, but how are you still married?' 
With these well-spoken words from the hirsute helmswright suddenly coming back to me, I let the boy's missing 'uh' go unremarked. I tell myself it's best not to get too hung up on this stuff. I'll just keep saying it the correct way and hopefully he'll pick it up. And maybe the same technique will work with McLaren. You could argue that it's more important to, for example, get him to understand that the imperfect form of 'run' isn't 'runned'. But if he's going to be interested in cars, we've got to nail those basics, too. I just need to play the long game, all the while employing the same self-restraint required when I receive an email from someone who believes the plural of Volkswagen is VW's. Breathe deeply. Keep a lid on it. Don't give away what a pedantic bore I really am. 
Besides, we have more important things to worry about at the moment. Like our daughter, who was born in August, once again filling us with the fear and wonder that only comes from becoming responsible for a tiny, helpless human being. And as I gently soothe her to sleep of an evening, I whisper to her in soft paternal tones: 'It's Porsche, my love. Por-shuh…'