'What's the best drive I've ever had? It doesn't involve the best car I've ever driven...'
What was your most memorable drive? Dickie recounts some of his, and obviously, they're incredible...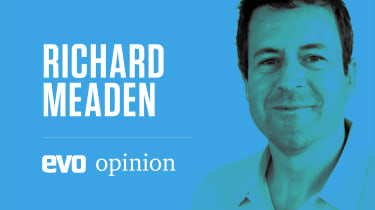 If there's one certainty in this chaotic and rather daft job of mine, it's being asked what the best car I've ever driven is. I'm a little ashamed to say the only thing more predictable than the question is my answer: the >McLaren F1. However, ask me what ranks as the best drive I've ever had and it'd take a great deal more thought to arrive at the definitive answer.
It's not simply a case of trawling through the fastest, most exotic cars I've been fortunate enough to try. A supercar never harms your chances of experiencing something unforgettable, but it's by no means a guarantee. To prove the point, although I've driven numerous F1s, one hasn't played a starring role in my best drives.
> Click here for our review of the McLaren F1 against its analogue rivals
It's a fine and rather obtuse distinction to make, but if you love driving, you'll appreciate the difference. It would seem logical for life-affirming spells behind the wheel to require all the planets to be in perfect alignment, but experience suggests that's not always the case. Time and place, type of road, clemency of weather, quality of company and, of course, the car you're in all play their part, but the beauty of great drives is that they're all different.  
More than two decades driving brilliant cars in amazing places has given me an extensive archive of memories from which to draw. Some appear as vivid snapshots – particular moments in time captured for posterity – but, doubtless like your own cherished motoring moments, the very best of mine can be readily played back in my mind like movies. Some might have been 'recorded' last week, some half a lifetime ago, but it only takes a moment to stop, reflect, and be right back in the moment.
I like to research things thoroughly, which in this instance has required me to do some serious staring into space. Rewinding to 1993 takes me back to my first overseas assignment as a junior road tester, dispatched to Corsica for the launch of the original Clio Williams. That trip confirmed everything I'd hoped the life of a motoring journalist would be: free access to fabulous cars and roads beyond my wildest dreams. I can still recall the fizz of apprehension at attempting my first proper in-the-wild cornering shot, then peering excitedly at the three-wheeling results on a lightbox back in the Carweek office a few days later. Yes, kids, the pictures were shot on that ancient medium called f-i-l-m.
A flick through the personal playlist and I'm on the Transsyberia Rallye, storming through the endless wilderness of Mongolia in a purpose-built Porsche Cayenne. This 4500-mile high-speed adventure from Red Square in Moscow, across Siberia to the Mongolian capital of Ulan Bator placed me so far outside my comfort zone I don't think I drew breath for a week, but the scale of the journey and the freedom to drive flat-out across rough terrain for weeks at a time made for some truly mind-blowing moments.
For the most 'evo' drive we skip to another Porsche, this time a 996.1 GT3 Clubsport. Porsche GB didn't have one, so I somehow managed to persuade an owner to drive his car to Sicily, where long-time friend and photographer Gus Gregory and I would meet him. We then spent two full days driving the Targa Florio route. Bathed in perfect sunshine and virtually deserted, Sicily was the most perfect fit of car and place I've ever experienced.
But the best drive? After much consideration, I can't recall anything to top that which former evo staff photographer Andy Morgan and I made in a Ferrari F430 Berlinetta. We'd finished the work element of the trip, so all we had to do was get ourselves back to the airport in Milan. Trouble was, we were in the heart of the Dolomite mountains, a good 300 miles away from Milan Malpensa, with only four hours to make the flight.
We needed a miracle, but that certainly didn't deter us from trying. For the first 90 minutes we fought our way free of the mountains, zig-zagging our way around tortuous switchbacks and yelping down the short straights. The rhythm of the road created a hypnotic cadence of up- and downshifts. The noise was incredible, my concentration total, our conversation restricted to the occasional 'Yep!' or 'Nope!' as Andy incisively confirmed or denied overtaking opportunities. This was a shared mission, built on the mutual trust that only good mates have.
Once out on the autostrada we made progress in a manner reserved for driving a Ferrari in Italy during the more liberal early years of the 21st century. The only attention we attracted was from a bloke in a silver 993 RS, who proceeded to slipstream us for the next two hours. When we had to make a last-minute splash-and-dash for petrol, he followed us onto the forecourt, never stopping, but slowing just enough to make eye contact, smile and salute, before continuing on his way. You really couldn't make it up.
We missed the plane, but it didn't matter. There would be other flights, but Andy and I both knew there would never be another drive quite like this.