"It was an inexplicable BMC parts box made me nostalgic for a time when people were less wasteful"
Finding a carefully stored old car part in his father's garage has got Porter feeling nostalgic for simpler, more resourceful times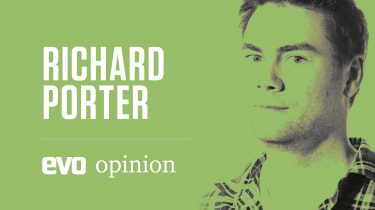 It was at the very back of the cupboard above the old workbench in my dad's garage. A jauntily striped red, white and blue box, about an inch tall, a little longer and wider, bearing the words 'BMC GENUINE PARTS'.
I took the little box out of the cupboard and opened it. Inside, wrapped in yellowing, BMC-branded paper were the guts of a switch from an original Mini and a little strip of paper from BMC Service Ltd warning that 'No complaint respecting contents of this package will be considered unless accompanied by this slip'. It had a date stamped on the back: 11 DEC 1967.
My dad did own a 1960s Mini. He owned it in the 1960s. It was sold not long after the date on the paper, when he moved on to a Cortina. Which means that, for the past 47 years, my father has kept a minor spare part for a car he doesn't have.
I asked him about this. 'Dad,' I said, 'I've just found an old bit for a Mini at the back of the cupboard in the garage, but you haven't owned a Mini for almost 50 years.'
'I know,' he said. 'That's why it was at the back.' I was so blindsided by this logic, I didn't have a comeback, and by the time I did he'd moved on to talking about the weather or which one of his friends had died this week.
I went back to the garage and looked again at the little BMC box. Up until now, I wouldn't have called my dad a hoarder. But here we were, clearing out the old family home of almost 40 years, and from the kitchen cupboards to the carpet off-cut chasm of the loft we were finding bits and pieces that any rational person would have chucked or burnt around the time of Prince Charles's first wedding. The garage alone was an extraordinary trip down car memory lane, through touch-up paints and fan belts and various bits of service ephemera for cars that have long gone.
My dad was an engineer, starting his career working on hydroelectric power stations. By the time he retired he was an advisor on oils and assorted unctions for heavy industrial machinery. He always had an engineer's mind, based on order and precision. He couldn't relax if the kitchen scissors had been put back in the wrong place. It would visibly pain him if you tried to open an envelope using your finger rather than the neat, crisp slice of the letter opener. At first I was mystified as to why a logical and sensible man would hang on to a redundant item like the spare Mini switch. But my puzzlement gave way to a wistfulness for what the carefully stashed spare actually represented.
My dad was born in 1937. He's from a generation that abhorred waste. It was programmed into them that you made do and you mended. Just because you didn't have a use for something now, that didn't mean you wouldn't find a purpose for it in the future. To throw it away would be wasteful. And when something broke, you might have a gimlet or gubbins tucked away that could be used to repair it. My dad, being technically minded, was always good at fixing stuff. But whatever your day job, there was a time when, if something broke, you got your tools out and you tried to mend it.
Conversely, I can't remember the last time I tried to fix anything. Maybe that's why the inexplicable BMC parts box made me nostalgic for a time when people were less wasteful, a bit more resourceful and a lot more hands on. I don't want to be one of those misty-eyed bores yearning for times past because, truth is, things change and we move on. A lot of what breaks these days is electronic and you're not going to fix that with a socket set. It's why everyone of my generation has a drawer full of dead mobile phones. And why those mobile phones are a strata sitting on a sub-soil of knackered Walkmans.
Really, what the BMC box reminded me of was happy Saturdays as a child, watching my dad expertly dismantling, inspecting and reassembling countless items, from toys to entire car engines, and marvelling at how brilliant he was at this stuff. I won't get to do that in front of my son.
On the plus side, I have stored up at least part of this experience for my boy because, when it came to slinging stuff from my father's garage into a skip, I got to the Mini switch in its brightly coloured box and couldn't bear to chuck it. So I took it home with me. And one day, I like to imagine that my kids will come to me and say, 'Dad, what the bloody hell have you got this for?'
Richard is evo's longest-serving columnist and is also the keyboard behind sniffpetrol.com @sniffpetrol