'With the relentless march of the SUV, the normal car's days are surely numbered'
Getting modern SUVs to handle in a half-decent manner is like getting a bear to dance: everyone's very impressed, but it's just not natural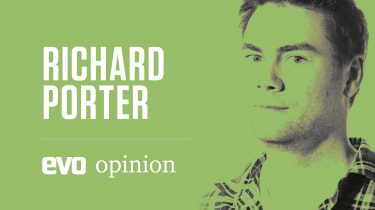 One of my favourite things about flying abroad is the hire car lottery. It plays on my mind, all the way through the airport, in the queue for passport control, during the time I'm wondering what special brand of mush-for-brains moronism makes people think their bags will arrive any faster if they stand right next to the baggage carousel.
And then it's just a quick trudge over to the rental car area, a bracing two-hour canter through all the forms even though I feel like I did exactly this stuff online two weeks ago, and the game is on. The lottery machine spins and I'm giddy with excitement at what the benign gods of Avis or Hertz will bestow upon me this time.
I don't know why this is so exciting. It's not as if Europcar policy upon running out of Category B cars is to give you a Lamborghini Jalpa. On any Euro holiday the end result is likely to be a tin box with a diesel engine. But some tin boxes are better than others, and when we went away to Italy last month the nice man at the desk actually gave me a choice of two keys. One was for a Peugeot 5008. The other to a Ford Mondeo.
This was not a hard decision. I know Peugeot has been trying very hard recently to become less cack, and the terrific 308 GTi by Peugeot Sport says it's getting there, but its regular stuff isn't a patch on the forgotten star of everyday fun times that is the Mondeo.
When I started my first proper job 20 years ago we sometimes used to get Mk1 Mondeos as hire cars and they were absolutely terrific. The 2 litre, in particular, was a riot, having the plums to really work that lovely chassis. Then the Mk2 came along, which felt more grown-up but still with some of that sparkle, like a mate who's now something in accountancy but will still go to a music festival and lose one of his shoes. Then came the Mk3, which was a bit more sensible again, and finally the latest model, which still has some of that sweet-driving magic, hidden under a business-casual bushel.
Our rented Mondeo was the estate in full hire-car spec, by which I mean there wasn't a surface on it that hadn't been kissed by another car and/or wall, and not a floor mat that didn't seem to have a whole beach underneath. It was leggy for a rental, too, showing over 50,000km on the clock, yet it felt tight and healthy behind the flesh wounds and sand. After a week all I could think was, what a nice car. Sensible, practical, user-friendly, but underpinned by a sense that people who know what they're doing had polished all the dynamic bits.
After a week, however, I also felt a bit sad for the Mondeo because, let's be honest, it's a dead car walking. At the hire car desk in Milan I may have chosen the Ford over a jacked-up hatchback pretending to be an SUV, but in showrooms that's not what people are doing. During the first six months of this year Ford sold just over 27,000 Mondeos in Europe. Over the same period the seven-seat Peugeot 5008 and its five-seater sister, the 3008, collectively shifted 125,000 units.
People don't want normal hatchbacks and estates any more. And that's a shame because it's easy to forget how much nicer to drive they are. I know we're all very impressed when a new SUV or SUV-lite comes along and someone says it's very 'car-like' to drive, but this is really only in the way that people sip alcohol-free beer and say it's 'not bad, actually'. Getting modern SUVs to handle in a half-decent manner is like getting a bear to dance: everyone's very impressed, but it's just not natural.
Unfortunately, the world doesn't see it like this and normal cars are on the back foot. That especially applies to the Mondeo, which is about to be deleted from the US market and will therefore lose the economies of scale that come from making it a global car. Without that, it's surely on its way out in Europe and that's very sad because I've just been reminded that cars, especially Mondeos, are nicer to drive than SUVs.
Of course, I say that as a clattering hypocrite because we've got an SUV as our family car with the excuse that it's easier to load small children into their seats without popping an important part of your spine. But once the kids are old enough to load themselves I'd love to go back to a proper car. I just have a feeling that by then there won't be many normal, sweet-driving family cars to buy. Or indeed to get in the hire car lottery.