As well as revealing plans for its future, Automobili Pininfarina has released another teaser of its all-electric, limited-production hypercar before it makes its full debut at the Geneva motor show in 2019. The hypercar will be the first in the range of several Pininfarina badged luxury electric cars, of which the company has already invested over £17.5million in their development.
Currently known as the PF0, the firm's hypercar will be the first full car to be sold as a Pininfarina; up until now only concepts and vehicles just styled or built by the Italian design house have been available.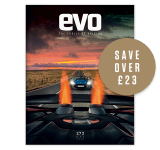 Subscribe to evo magazine
Subscribe today to have every issue of evo delivered straight to you. You'll SAVE 39% on the shop price, and get evo for its original cover price for a whole year!
But rather than the whole of Pininfarina diverting its focus from design and engineering projects to producing cars, an entirely new company has been set up to manufacture a range of road cars, Automobili Pininfarina. This new firm will operate alongside its sister company Pininfarina SpA, which will continue to create design and engineering solutions for third party manufacturers. It is Pininfarina SpA that has received the significant investment from Automobili Pininfarina to take on the development of any future models and to build all 150 units of the hypercar.
Although the final design and all the details are yet to be revealed, Automobili Pininfarina has confirmed its electric hypercar will be constructed using a bespoke monocoque chassis and body panels all made from carbonfibre. A battery pack will sit aft of the two seats and will power four electric motors, one for each wheel.
Earlier this year Pininfarina announced that Rimac, creator of the exceptional Concept 1, will be a technical partner and will supply the batteries and drivetrain for final car. The exact power figure hasn't been confirmed, but Automobili Pininfarina says it will have 1900bhp and 1696lb ft of torque. With an estimated kerb weight of less than two tons – not light, but understandable given the weight of battery packs – Pininfarina expects its car to accelerate from 0 to 62mph in less than 2sec.
> Read our review of the Rimac Automobili Concept One
Unlike most electric cars, Automobili Pininfarina is experimenting with including two forward gears in its hypercar to give a greater range of speeds. Ultimate top speed isn't a priority for Pininfarina, apparently, but the company still anticipates its first model will be capable of over 250mph.
The newly revealed images preview Automobili Pininfarina's new visual philosophy that the company's design director, Luca Borgogno, has created to give a distinct identity to the company's future models.
Even though the PF0 has been designed around a fairly unconventional drivetrain, it still looks just as you might imagine an Italian hypercar to look. There's hints of the LaFerrari in its cockpit-style roof line and sharp front end, and the full-width front light bar is familiar to anyone who's seen Pininfarina's Ferrari Sergio. Its almost conformist look, however, means there's very little that's challenging to the eye, and overall it's a very pretty car.
> Find out what Ferrari's hybrid hypercar, the LaFerrari is like to drive
The most obscure element of the entire car is the rear end seen in photos with Paolo Pininfarina, grandson of Battista "Pinin" Farina the design company's founder. As you can see, without the same extreme cooling measures that a hypercar with a large internal combustion engine needs, there's not the gaping holes at the back to allow for hot air to escape. Instead there's a lot of bodywork, making it look slightly bulkier than the rest of the delicate shape.
At the rear there are also two floating wings that originate from the rear haunches and finish with two taillights on their trailing edge. However, it was revealed that the two wings won't be completely separate on the final car and will be joined by strip of carbonfibre.
Inside the PF0 concept, the focus is on the driver. Many of the proposed interior styles that Pininfarina has put together include a different coloured driver's seat from the passenger's. The driver is also flanked by two rotary dials, one in the door and the other in the centre console. One dial is akin to a transmission selector, and allows the driver to select drive, reverse or park, while the other is to toggle between the car's driver modes – how many of which has not yet been decided.
The most notable element is the dash directly in front of the driver. Rather than one instrument pod, there are two tablet-like screens that sit on the dash leaving a gap in the middle for the driver to focus on what's ahead. There's a third, much smaller screen, directly in the middle and in line with the steering wheel that only displays vital information.
The two-screen dash layout is something Pininfarina's chief test driver and F1 alumni, Nick Heidfeld, approves of, as he wants to keep driver distractions to a minimum and thinks the small central screen will help this.
There's always a worry when F1 and racing drivers get involved with road cars, that their exacting standards and desire for cars to be as fast as possible won't translate into a fun and usable road car. But Heidfeld's intentions are promising. Despite the car having around 1900bhp and fancy torque-vectoring on all wheels, Heidfeld wants Pininfarina's hypercar to have accessible performance and be fun for anyone. Still, some sort of training with Heidfeld will be available for Automobili Pininfarina customers.
Those original fears are reignited, however, when Heidfeld reveals he intends to sell his Porsche 959 S. But then he admits it's so he can buy a Carrera GT, and all faith in the future hypercar is restored. Hopefully, Heidfeld can incorporate some of the V10 supercar's character into Pininfarina's electric car.