Ford Fiesta ST v Peugeot 208 GTI v Nissan Juke Nismo v Mini Cooper S JCW v Renault Clio 200 Turbo
With several new arrivals, 2013 is a big year for hot hatches. Here four of the latest take on an established great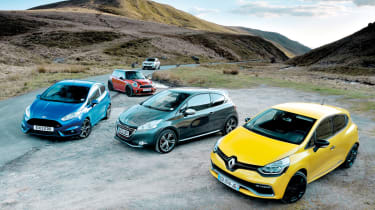 A wonderful heat is radiating from the big yellow ball in the sky, gently warming skin and paintwork alike in the quiet lay-by below.
This is not a fleeting appearance by the old currant bun today either, because only the odd puff of cloud is frolicking across the vast vault of cobalt above. It's as good a day in the Elan Valley as I've ever seen. What's more, I've just had as good a drive as I think it's possible to have along this amazing stretch of Welsh road. So wickedly does the tarmac writhe and so narrow is the distance between verges that no howling supercar, no penduluming 911, no knee-high Caterham would have improved it. These little hot hatches (I'll explain the Juke in a minute) are just perfect.
It's been an interesting test so far. Lined up in a row, the cars are as different to look at as they are to drive. First up, we've got the new Peugeot 208 GTI (£18,895), which we're all hoping will rediscover the French lion's inner hot hatch mojo. Then there's the new Renault Clio 200 Turbo (£100 more), complete with optional Cup chassis and new twin-clutch paddle-shift 'box. Such has been the dominance of Renaultsport in hot hatch group tests in recent years, you might think the next few pages are a foregone conclusion. I can assure you they are not.
Hiding behind the Clio is a Mini John Cooper Works (£22,460). Although the oldest car present and the most familiar shape, it has the most power (208bhp) and will undoubtedly keep the newbies honest. By comparison, the Ford Fiesta ST, resplendent in its Spirit Blue hue, is the least powerful of the quintet at 179bhp, but it is also the least expensive (£16,995) and has a very healthy 214lb ft of torque.