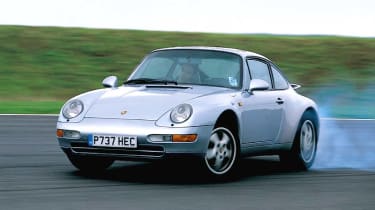 As mentioned last month, I've been amazed by the 993's progressive breakaway when the rear Bridgestones give up their grip and the weight of the rear-mounted engine starts dictating the car's balance. So much so that I thought, in the interests of science, I should try PHEC on track and find out what it's like when you're really pushing hard. The answer, perhaps unsurprisingly, is that it's absolutely brilliant.
As with all 911s there's plenty of understeer if you fail to utilise the rearward weight bias, but if you're prepared to get the pendulum moving, the 993 feels incredibly adjustable and remarkably forgiving. Despite the lack of a slippy diff, the car is more inclined to go sideways than simply spin its inside rear wheel during hard cornering (the rear engine sees to that), but because it has relatively modest limits, the window between mild understeer and lazy oversteer seems to have an almost elastic quality. You've got so much time to wind on the lock, pick your throttle opening and then ride out the slide that it's hard to understand why 911s still have their fearsome reputation.
You're reminded why, though, if you haven't dealt with the slide by the time the next corner arrives. Through a quick right-left transition it's best to keep the rear tyres hooked up at all times. Store up energy with a big slide one way and it's released in violent and irretrievable fashion just at the point when you start thinking you might be some sort of 911-taming god. Oh well, it's nice to dream...
It's pretty edgy on the brakes, too. The rear jinks and weaves unless you're perfectly straight when you summon the impressive stopping power (the brakes did get a little noisy, so we'll be fitting some new pads ASAP).
In some respects it's easier to handle than the incredibly grippy 997. It isn't as fast - nowhere near so in point-to-point terms - but it's just as rewarding and easier to exploit at sub-warp speeds.
Despite its advancing years, the 993 continues to feel tight. The recently recharged air-con seems to be running on empty again, though. And the headlights are awful. One of the units is cracked so I think we'll just get two brand new pods and hope that they've improved them since 1996. Those are about the only gripes, though. Oh, and the front boot is tiny compared with that of a water-cooled 911. The sacrifices I have to make to run this car...
Running Costs
| | |
| --- | --- |
| Date acquired | August 2005 |
| Total mileage | 87,951 |
| Costs this month | £0 |
| Mileage this month | 1094 |
| MPG this month | 22.4mpg |