Porsche 911 Carrera 2
A big service resulted in a big bill. Thank God we didn't go to the main dealer...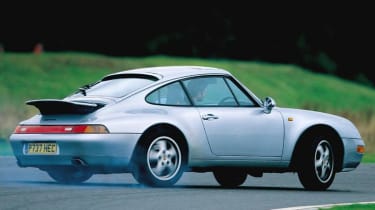 Porsche's success is built on the usability of its products, and the 993 certainly lives up to that reputation. However, 'usable' and 'reliable' don't necessarily add up to 'affordable'. In our first month with the Carrera we spent £906.43 on a service at the Porsche Centre Silverstone. Now, 10,000 miles or so later, we've had to dish out another £1059.56 at Porsche specialist Autofarm. Thank God we didn't go to a main dealer... Okay, it was a big service, including a gearbox oil change, and we had to have new trackrod ends fitted to cure the steering column's hysterical vibrating whenever the car hit a nasty bump. But even so it's a hefty bill considering the outlay just six months earlier. If you're thinking of a 993 (and if you've got around £25K to spend you really should be), then be warned. After the wallet-lightening service and the thought that PHEC will be gone in a month or so (get your offers in to eds@evo.co.uk), I thought it was about time I reminded myself how much fun you can have in a 993. I was also intrigued to know just how quick it would be around Bedford's West Circuit compared with the Cayman S we tested in our recent Fast Club story (evo 091). You're certainly much busier than you'd be in a Cayman, juggling the 993's natural understeer and the threat of big, momentum-induced oversteer. It isn't intent on killing you, but you have to understand when to take advantage of its rear weight bias (through the middle of a corner, sometimes on the way in to the quick stuff to wipe out understeer), and when to respect it (through fast direction changes and in the braking zones, especially if they're not arrow-straight). It's not easy, but it's massively exhilarating. Hooking-up a quick lap takes real concentration, and you have to step beyond your comfort zone to tap into the 993's ultimate abilities. Get it right, though, and it feels so good. It's actually pretty bloody quick, too, stopping the clock in 1.29.30 - just four-tenths shy of the Cayman S.
Running Costs
| | |
| --- | --- |
| Date acquired | August 2005 |
| Total mileage | 91,374 |
| Costs this month | £1059.56 |
| Mileage this month | 898 |
| MPG this month | 23.2mpg |