Porsche loses in one-car shootout
Ever wondered how a Porsche 911 would respond to being shot 10,000 times? We hadn't either - but here it is.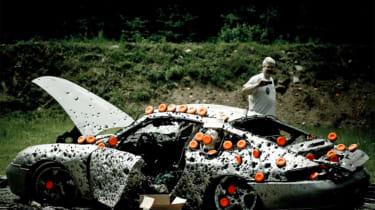 One Porsche owner has found a novel way to respond to mechanical problems with his Porsche 911.
After being quoted USD 20,000 to repair his engine and cooling system the unnamed American donated his 911 to an organisation dedicated to 'preserving and expanding the rights of gun owners in Massachusetts' - for use in some target practice. 
Around 140 gun owners turned up for the chance to open fire at the stricken 996 with everything from 9mm handguns to what one US website has described as a 'twin mount Browning M2 .50 machine gun.'
Around 10,000 rounds were fired at the luckless Porsche, which was completely destroyed. Thanks to YouTube, you can see the opening salvo.
And before you get too upset, bear in mind the 911 was an automatic.