Porsche Boxster S – long term test review
Heritage long term test review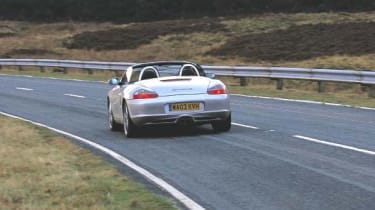 Recently, and in the space of a month, the Boxster's hood failed - three times - and on a long journey home, fourth became the gear of choice. The only choice, in fact. Two of these failures forced me to use the services of Porsche Assistance and the third roof failure led to a pretty Fawlty-esque tantrum from yours truly. You might reasonably assume that I'm hugely relieved to be waving goodbye to the 'S', but that's most emphatically not the case. In fact, with the exception of my much-missed Clio V6, I can't think of a car that I've been sadder to see go - the odd Impreza and Elise included.
You see, when the Porsche was behaving itself - and to be fair, that was for virtually all its 15,000 miles - it was an absolute joy. The chassis was the peach everyone claimed it to be while the creamy yet pleasingly gruff 3.2-litre flat-six had so much more character than I was expecting; by comparison, my earlier M3 seemed a bit 'thin' despite its straight-six producing the goods in the performance dept. In fact, where you might have expected a larger, blander version of an Elise or VX220, I found a car capable of getting under your skin in a big way.
The biggest surprise dynamically was a touch of nervousness from the Boxster at 100mph+ speeds - especially on long sweepers - a trait exacerbated by dropping the hood. The 'S' didn't stomp through standing water with quite the same sure-footed disdain as my M3 before it either.
Water also had an adverse effect on the brakes with the discs slowly rusting and pitting - things eventually got bad enough for the brakes to seize on if the car was parked for a few days. Braking performance started to drop off, too. After a bit of to-ing and fro-ing, Porsche agreed to replace all four discs plus pads under warranty, although not before suggesting I dry the brakes after every wet run. I pointed out that I've owned some seriously ratty cars in my time and none of those suffered this problem, so I didn't expect my £40,000+ Porsche to.
With almost 15,000 miles on the clock, the Boxster still looked like new inside and out and I can't say I noticed the supposed drop in quality that some have mentioned. The fiddly radio got a five out of ten, but the seats, driving position and overall comfort earned a maximum score. The comfort came as a bit of a surprise, since on top of the standard 'S' spec I had added Porsche's Sports Suspension pack - stiffer lowered springs, uprated dampers and anti-roll bars - and thrown in bigger wheels for good measure.
I liked simply reaching out and putting the ignition key in the dash rather than indulging in the more traditional under-the-wheel fumble. The digital speedo, which I didn't expect to like, makes total sense now, and I took to using it in preference to the regular needle 'n' dial speedo the car also has. Two boots swallowed enough clobber for a ten-day holiday in the Alps with a few useable nooks in the cabin, too. There were even cup-holders, for heaven's sake. The hood was simplicity itself (usually!) with just one headrail catch and a 12sec total operation time following the press of a button. Naturally it was totally draft- and leak-free, with very little buffeting when down.
Although my dealership, Porsche Centre Exeter, blotted its copy-book by twice failing to correctly diagnose the hood fault, its helpful attitude and enthusiastic approach over 15 months more than made amends and helped make my first experience of Porsche ownership a pleasure. And yes I did buy the car with my own money and no I didn't get a discount. Although I'd rather not have found out, Porsche's roadside assistance service was excellent, too.
So, believe everything you've read about the Boxster; erase any thoughts that it may be the soft or boring choice - it isn't. Use it every day, in all weathers, top up or down, and wonder why some people's 'fun' cars have to be second or weekend- only affairs.
Despite my affection for the 'S', replacing it won't be all that hard. In fact, its successor was ordered over a year ago and I've just heard that it's ready for collection. Already an icon in its many previous incarnations, it has a lot more power than the Boxster, four seats and an engine in a different place... See if you're right about what it is in next month's Fast Fleet.
Running Costs
| | |
| --- | --- |
| Date acquired | June 2003 |
| Total mileage | 14,725 |
| Duration of test | 15 months |
| Average MPG | 27.2mpg |
| Servicing costs | £305 |
| Consumables | £0 |
| Extra costs | £0 |
| Price new | £43,998 |
| Trade in value | £35,000 |
| Depreciation | £8998 |