Porsche Boxster: Porsche Boxster 'S'
Updated Boxster engine for the 'S', plus Lexus tops customer satisfaction survey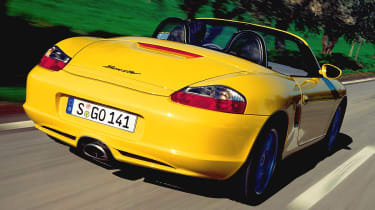 Porsche has updated the Boxster's engine line-up, fitting the 'S' with the 291bhp 3.4-litre flat-six from the Cayman (adding 15bhp) and treating the 2.7-litre base model to VarioCam Plus, Porsche's variable inlet camshaft timing and valve lift system, liberating an extra 5bhp, making 241bhp in total.
ERRORS in the Maserati MC12 Corsa story in issue 093. Only 12 cars in total will be built and Maserati will be vetting potential owners. Apologies for the mistakes.
FOR THE sixth year running, Lexus has topped the JD Power and Associates UK Customer Satisfaction Study. The winning car was the Lexus IS range.