2019 Porsche 911 Carrera 4 and Carrera 4 Cabriolet detailed
Porsche's proliferation of the 911 continues with the all-wheel-drive Carrera 4
The 992-generation Porsche 911 continues to diversify with news of the new Carrera 4 and Carrera 4 Cabriolet that combines the Carrera's entry-level 380bhp version of the ubiquitous 3-litre turbocharged flat-six with Porsche's all-wheel-drive system.
Unlike previous generations, the new Carrera 4 does not feature a wider body in comparison to two-wheel-drive variants, with both models sharing the same body which is much the same width as the previous-generation 991 Carrera 4, save for the 992's wider front track.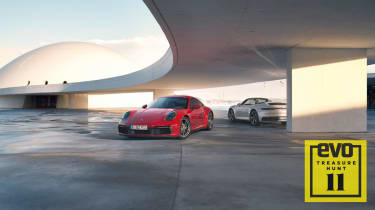 Key figures are as follows, with the aforementioned flat-six producing 380bhp, with a relatively light peak torque of 331lb ft, albeit spread right across the rev range between 1950 and 5000rpm. This figure puts the new Carrera 4 15bhp up on the previous-generation car, which helps the new car along to 62mph in 4.2sec (4.0sec dead when fitted with the Sport Chrono Package), and eventually topping out at 181mph.
Cabriolet models are 0.2sec down on the Coupe's acceleration times – put that down to the extra kerb weight. Like all 992-generation 911s so far released, Porsche's dual-clutch PDK transmission is standard fit, with the forthcoming manual still frustratingly vacant from the range.
Part of the 992 update has been a redesign of the driven front axle, with the Carrera 4 now featuring a water-cooled front-axle drive unit with tougher, reinforced clutches for faster response and a higher torque load – likely designed with the forthcoming Turbo and Turbo S models in mind. Either way, the upgrades have successfully trickled down, which should make this Carrera 4 the most responsive 'basic' all-wheel-drive 911 yet.
The exterior and interior remain unchanged over those of the Carrera models, with the standard exhaust system featuring new oblong tips, which most buyers will no doubt replace for the oval Sports Exhaust units anyway. Otherwise the Carrera 4 features the same combination of classic proportions overlaid with crisp LED lighting, sharp detailing and those extremely wide hips.
UK prices have been set at £88,101 for the standard Carrera 4 Coupe, representing a £5308 rise over the standard two-wheel-drive Carrera, and £10,317 saving over the Carrera 4S. Cabriolet models start at £97,746, with similar gaps between those equivalent model variants. Customer cars will arrive in the UK in October this year.